Rome and Venice are important locations in Mission Impossible 7. In this film we'll see Tom Cruise also appear in Norway, Abu Dhabi and England.
In this article we will show you all the Mission Impossible locations, starting of course in depth with the Italian Mission Impossible locations.
These are the Mission Impossible 7 locations:
Rome
Venice
Abu Dhabi
Norway 
United Kingdom
Apart from Venice, these are all Mission Impossible locations that Ethan Hunt has already visited in the past.
Mission Impossible 7 in a nutshell
Mission Impossible 7 (M:I VII) is a action film starring Tom Cruise, who reprises his role as Ethan Hunt. The movie is written and directed by Christopher McQuarrie. It will be the seventh installment of the 'Mission Impossible' film series.
Except of Tom Cruise, the cast includes Ving Rhames, Simon Pegg, Henry Czerny, Vanessa Kirby and Rebecca Ferguson, who return to play their roles from previous Mission Impossible films.
Preparation for the first outdoor location, Venice, started on February 18, 2020 (Instagramfoto by director McQuarrie), but was stopped a week later due to the outbreak of the Covid-19 pandemic. The new start of filming took place in September 2020 (McQuarrie in Norway). The last outdoor scenes were shot in August 2021.
Mission Impossible 7 is branded as 'Dead Reckoning' and is scheduled to be released in the United States on July 14, 2023, followed by a streaming release.
1. Rome
Shooting: Oct and Nov 2020
Locations: a.o. Monti, Piazza di Spagna (Spanish Steps), Viale dei Fori Imperiali (Roman Forum), Ghetto (Sant'Angelo)
Rome is one of the main Mission Impossible locations of the seventh installment. The shooting in Rome has last with interruptions seven weeks. The mayor of Rome (who is seeking re-election beginning October 2021) finally had good news for her citizens: of the approximately 35 million euro production costs in Italy, over 18 million was spent in Rome.
A. Monti
The film crew filmed mainly in the Monti neighbourhood. That's the area between the Colosseum and the Trevi Fountain, to put it briefly. I live there. So I was able to witness the filming myself on several occasions.

Day one (Oct 6, 2020) started at the top of Via Panisperna, near my child's primary school:
Just now: Tom Cruise in Rome, in (my) Monti neighborhood, starting to shoot #MissionImpossible7. #TomCruise pic.twitter.com/8RpQaM7jRB

— Ewout Kieckens (@ewoutkieckens) October 6, 2020
Some impressive chase scenes were shot there, including on the Via Panisperna. Here we see Ethan turning the corner of Via Milano:
And more #MissionImpossible7: car chase at the corner of Via Milano and Via Panisperna, in #Rome. #TomCruise pic.twitter.com/IwXvvLfWNQ

— Ewout Kieckens (@ewoutkieckens) October 6, 2020
James Bond was also chased in Monti
The filming in Monti, the Roman neighbourhood, reminds me of the filming for another action hero movie. In 2014, Daniel Craig aka James Bond was chased at exactly the same corner: Via Panisperna-Via Milano. Daniel Craig ultimately escapes a ruthless killer. It is all there to see in Spectre, the last James Bond film.
RELATED STORY: Read more about all 8 Italy locations of James Bond
B. Spanish Steps
Days later, Cruise got rather rowdy around Bernini's fountain at the base of the Spanish Steps. People of the Keats-Shelley House (dedicated to the English poets John Keats and Percy Bysshe Shelley) had a front-row seat in their museum. You can also see very well that whilst Cruise was at the steering wheel, he had not his hands on the wheel…
We love to see Tom Cruise racing through Piazza Di Spagna for #MissionImpossible7 pic.twitter.com/Ws3nt7tv63

— Keats-Shelley House (@Keats_Shelley) November 22, 2020
C. Roman Forum
The Viale dei Fori Imperiali (The Road of the Imperial Forums) is the only street in Rome that goes right through ancient Rome. On one side you have four fora (squares with a temple compound, or what is left of it), on the other side the Roman Forum. Especially the Forum dating from the Republican period is world-famous, because, among other things, the Senate building stands there.
In one of the scenes at one of the most beautiful Mission Impossible locations, two people are killed. It happens right in front of the statue of Augustus, Rome's first emperor:
Mission Impossible on via dei Fori Imperiali #Rome #MissionImpossible #MI7 pic.twitter.com/iYurC0MY5u

— Erica Firpo (@Moscerina) October 13, 2020
D. Piazza Venezia
The car chase also took place in Piazza Venezia, which translates as the Venice Square. The location is actually an extension of the Viale dei Fori Imperiali and also borders the Monti district. So the three locations (A, C and D) are linked with each other and make part of one and the same scene.
Auto da corsa e sgommate: piazza Venezia diventa 'Mission Impossible' con Tom Cruise https://t.co/OOxsNsfhAj

— Repubblica (@repubblica) November 29, 2020
E. Ghetto
Another chase have been shot in the area behind Piazza Venezia, that is known as the ghetto (former jewish quarter). This time Cuise and Hayley Atwell are escaping on foot. The couple, coming from Via Cavalletti, holds each other hands or -better said- were handcuffed together:
Tom Cruise and Mission: Impossible 7 co-star Hayley Atwell are handcuffed together to shoot tense scene in Rome https://t.co/irl66Vm9mz

— Daily Mail Celebrity (@DailyMailCeleb) November 24, 2020
Behind them is a menacing black SUV driven by the actress Pom Klementieff, who in the script is one of the bad 'guys'. But the two manage to get away because the SUV is blocked as the street is too narrow for such a large car.
Other Mission Impossible locations in the ghetto are Via dei Funari, Via Caetani, Via del Delfino, Via della Tribuna di Campitelli and the Via Cavalletti.
RELATED STORY: In April 2021, also Lady Gaga appeared in the ghetto. She shot a scene for the film 'House of Gucci' there. Learn which Rome locations Lady Gaga used for that film.
Hunt and Cruise were back in Rome
It was not Ethan Hunt's first visit to Rome. In Mission Impossible 3 (2006), the IMF agent visited the Vatican, rode a speedboat down the Tiber River and dressed up as a DHL delivery man who has a breakdown with his van. In the next scene, we see Cruise arguing with Jonathan Rhys Meyers. Both actors speak Italian quite well. What also stands out is the cliched way in which Italian life is portrayed (lots of hand gestures, lively discussions, chaos):
In the same year (2006) Tom Cruise was in Rome again to marry Katie Holmes (on Lake Bracciano, near Rome).
2. Venice
Shooting: February, late October until mid November 2020
Locations: a.o. Palazzo Ducale, Piazza San Marco (St. Mark's square), Canale Grande, Ponte Conzafelzi
Mission Impossible 7 brought some relief to corona-stricken Venice in 2020. The Municipality received half a mllion euros alone for 3 days of shooting in the Doge's Palace (Palazzo Ducale) and space in the Arsenal as the production's HQ.
In any case, the film production incurred high additional costs because the pandemic stopped the film making for a long time. The film crew interrupted filming in Venice (the first location) when the Covid-19 pandemic erupted in Europe, hitting particularly hard in Italy. The production did well to break down on time, on February 24, because on March 9, Italy was the first country in the world to impose a lockdown that applied to the entire country.
But just at the beginning and shortly before breaking up, CBS had some nice footage. Here we see a camera drone above Palazzo Contarini De Bovolo. This palace is famous for its outside spiral staircase:
Venice + no tourists = Hollywood set. Tom Cruise just wrapped his latest Mission Impossible here, and we just went behind the scenes of a Hemingway biopic starring Liev Schreiber and Matilde De Angelis. Coming up on @cbsthismorning #cbsthismorningsaturday #cbsnews #wearecbsnews pic.twitter.com/liP8h789RA

— Christopher Livesay (@SayChrisLive) February 20, 2021
A. Palazzo Ducale
Palazzo Ducale is the splendid Venetian masterpiece of Gothic art that once was the residence of the Doges, Venetian rulers, and the seat of the Parliament of Venice, a City Republic.
The Ducal Palace is a unique setting that would allow Ethan Hunt to make his escape through the halls of the Senate, the ancient weapons depot, the underground passages, the Bridge of Sighs and the (in)famous prisons from which Giacomo Casanova also escaped. We have to wait for the release of the film to check which part of the palace has been used.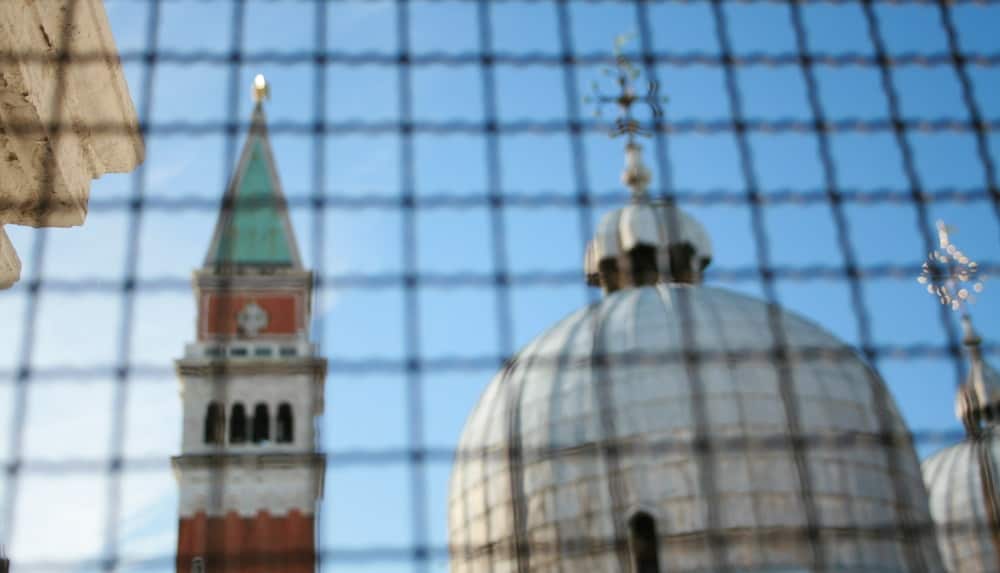 RELATED STORY: Inside tips for when you go to Venice
B. Rio di San Zan Degola
This canal (Rio) is quite long and leads to the Canale Grande, Venice's largest canal. The shots were taken just behind the church of San Giacomo dell'Orio.
Here we see Cruise in his preparation to step over some boats to get to the other side. Apparently Ethan is in big trouble… as there are no shortage of bridges in Venice. A nice detail now that we are in the most romantic city in the world: one of the boats is called 'Amore' ('Love'):
C. Ponte Conzafelzi
As mentioned, Venice has a multitude of bridges, more than 400, and one of them is the Ponte Conzafelzi. On this bridge, we see Hayley Atwell sitting on the ground as Cruise slowly approaches:
More of Tom & Hayley Atwell in set of 'Mission Impossible 7' in Venice, Italy ?? (November 13,2020) ✨
Source: https://t.co/pIIiuTSl6L pic.twitter.com/C5ryJe5lHF

— тoм crυιѕe,ғacĸ yeaн (@TomCruiseFY) November 14, 2020
This bridge, also called the crooked (storto) or Pinneli, is rather special because it is made of cast iron. It is a hundred metres from one of the craziest bookshops in the world: the Libreria Acqua Alta or High Water Bookshop.
D. Other Venetian calli, rii and campi
Apart from the above locations, numerous other rio's (canals), alleys or calli as they are called in local dialect and campo's (squares) have been used. Below you can see Ethan running for his life while a cyclist rides ahead to give him some proper light:
More of Tom in set of 'Mission Imposible 7' in Venice, Italy ??(November 16,2020) ✨ pic.twitter.com/ABT5EnCnei

— тoм crυιѕe,ғacĸ yeaн (@TomCruiseFY) November 17, 2020
According to Paramount, the producing company, McQuarrie should also have filmed at Campo Santa Maria del Giglio, Calle del Traghetto, Campo della Salute, Campo Santo Stefano, Campo Pisani, Ramo e Sotoportego Pisani, Calle Ca' Genova and Campo San Vio.
Cruise's 'pad' in Venice
Tom Cruise and other crew members stayed at Hotel Gritti Palace during the shooting in Venice (February and autumn 2020). This is one of those typical super de luxe hotels on the Canale Grande. It was built as a family palace in the 15th century and now belongs to the orbit of Marriott. It's an 8 minute walk from St Mark's Square.
A thank-you at the end
As usual at the end of a shooting on location, the film production thanked those involved, a very nice gesture.
Venice has blessed us with her history and haunting beauty, leaving a unique and indelible imprint on our film that mere words cannot express.
3. Abu Dhabi
Shooting: February 2021
Locations: Abu Dhabi City
The United Arab Emirates are not unknown territory for Ethan. He stayed there in 2010 as well. There, actually in Dubai, he climbed the highest skyscraper in the world (Mission: Impossible – Ghost Protocol). The scene where Cruise climbs the tower from the outside during an approaching sandstorm is one of the most famous in the MIssion Impossible series.
Scenes for Fallout (2018) were also shot in the same emirates union, specifically in the Liwa Desert (Empty Quarter), one of the largest sandy deserts in the world.
Three times is the charm. Below, we see McQuarrie and the lead actors on camels, marking the start to filming in the country:
4. Norway
Shooting: September/ start of October 2020
Locations: Åndalsnes (Trollveggen) and Hellesylt (Helsetkopen)
At the first shooting day in Norway director McQuarrie showed what a fantastic setup his team had made:
Over the same bridge/ramp, Tom Cruise later drives into the ravine (he parachutes to the ground), as seen on Norwegian television:
Locations were chosen in the province of Møre og Romsdal (Western Norway).
A. Helsetkopen
In this mountainous area Tom Cruise, as usual, performed his own stunt (see above). That stunt was quite impressive: driving over a narrow ramp built on a mountain plateau, a free fall down and the (late) opening of his parachute. Cruise performed the stunt eight times for the best result, as he tells himself during the Graham Norton Show (BBC):
Helsetkopen is located north of Europe's largest glacier area, called Jostedalsbreen. By the way, the Norwegian press is speculating that a Mission Impossible location for the eights installment will be set not far from here, in a place called Aurland.
B. Åndalsnes
Åndalsnes is not for nothing called the paradise for climbers. The film crew concentrated on the famous mountain wall Trollveggen. That is the highest vertical rock formation in Europe (1,100 meters high). Tom Cruise is well known with high rock formations and how not to fall off them. In Fallout (2018), he famously battled Henry Cavill on Preikestolen, a cliff formation. Preikestolen is also in Norway (even though the location goes on for Kashmir): 
5. United Kingdom
Shooting: April-August 2021 (with interruption)
Locations: Levisham (North Yorkshire), the Darlton quarry in Stoney Middleton (Derbyshire)
We won't go into too much detail about the UK locations, but let's show you at last a spectaculair FB photo of a local villager near the Darlton quarry:
More Mission Impossible locations
Write to us if you have found any Mission Impossible locations (I:M VII) that we have not mentioned. We possibly adjust this article with reference to your contribution. Bye.