If you want to watch Italian films at home or on your own device, you are bound to have Netflix or Amazon Prime. There is a fairly large selection of (free) Italian movies.
Watching Italian movies
Italy has been famous for its films since the invention of the cinema, especially since World War II. Names like Sophia Loren and Marcello Mastroianni are world-famous. But nowadays, Italy is still a force to be reckoned with. Paolo Sorrentino, for example, is one of the most appreciated directors in the world.
But watching Italian films outside Italy is not that easy. Fortunately, there are (legal) streaming services. However, most streaming services such as Lulu, HBO, Showtime and Disney+ have few Italian offerings. Amazon Prime does have a reasonable content of Italian films, but some content does not come free within the subscription. Netflix also offers some interesting (free) Italian movies.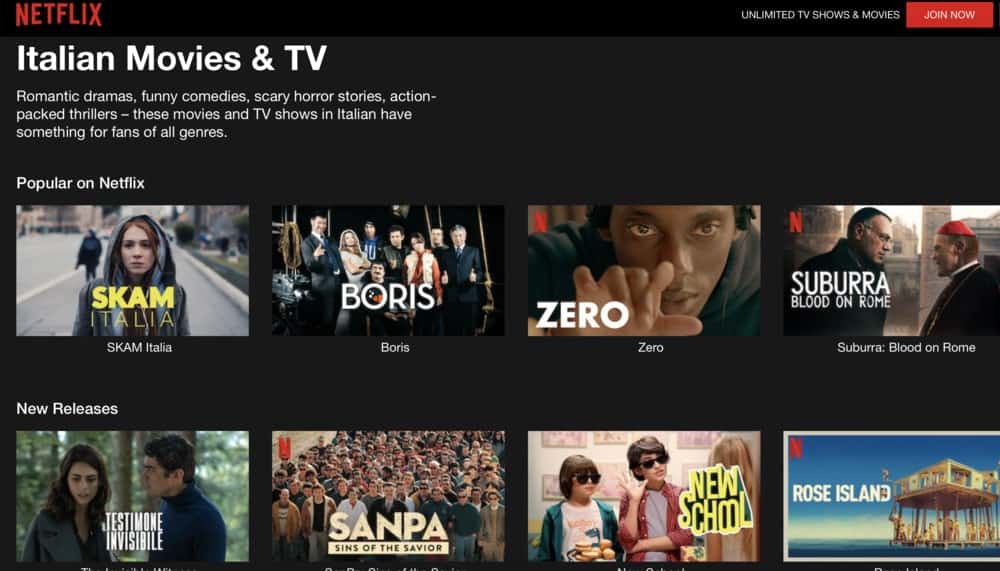 Best Italian movies on Netflix and Amazon
In my top 24 italian movies on Netflix of the moment (summer 2021) I made a mix of films of the last 75 years. My selection is a blend of newly released films, older ones, comedy, drama, TV series, but all chosen films are quality movies. However, it is not to say that these are the best Italian films of all time. I have kept to what the streaming services offer.
24 best recommendations in 2022
The titles can be watched from within the US and UK, among others. The films have been adapted for audiences who do not understand Italian. In Europe and especially in Italy, the choice of Italian movies on Netflix and Amazon is bigger.
Here are my top 24 best Italian movies on Netflix and Amazon Prime, ordered by the year of release:
Director: Vittorio De Sica
Leading Actor: Sophia Loren, Marcello Mastroianni
Year: 1964
Italian title: Matrimonio all'italiana
Genre: Drama / Comedy
Why to watch: For admiration of the best Italian film couple
Platform: Amazon
English subtitled: yes
The successful businessman Domenico begins an affair with the beautiful Filumena. She had ended up in prostitution due to poverty and becomes his mistress. When Domenico is about to marry a young employee, Filumena pretends to be dying. He cancels the wedding. 
The storyline as told now looks like a cheap play, but is one of the golden films of the Loren-Mastroianni couple. The film grossed in nominations (two Academy Awards) and received a Golden Globe.
Director: Damiano Damiani (and 3 others)
Leading Actor: Michele Placido
Year: 1984-2001
Italian title: La piovra
Genre: Crime / TV serie
Why to watch: One of the first true-to-life (TV) film about the Sicilian mafia
Platform: Amazon
English subtitled: yes
The Octopus was a global hit that ran from 1984 to 2001. This epic Mafia thriller explores the criminal culture that extends its tentacles into all of society. Music is from Academy award winning composer Ennio Morricone.
One of the first series to show the ruthlessness of the Sicilian Mafia, and its intermingling with society. Be sure to watch the first four seasons when Michele Placido is the mafia fighter.
Director: Andrea Camilleri
Leading Actor: Luca Zingeretti
Year: 1999-2019 (31 episodes)
Italian title: Il commissario Montalbano
Genre: Series / Crime
Why to watch: Sicily always attracts, and it doesn't have to be just because of the mafia
Platform: Amazon
English subtitled: yes
RELATED: We have selected four books as the best works on the Italian mafia in the English language
Crime and Sicily go well together in the imagination, and this highly successful series also has the two ingredients. This time no mafia, but 'ordinary' murders that are solved each time by the charming Salvo Montalbano. Each episode stands alone
Director: Gabriele Muccino
Leading Actor: Stefano Accorsi, Giovanna Mezzogiorno
Year: 2001
Genre: Drama / Comedy
Title in Italian: L'ultimo bacio
Why to watch: Dynamic storyline, breakthrough of director and new generation of actors
Platform: Netflix
English subtitled: yes
"As Carlo prepares for fatherhood, he grapples with settling down. And he's in good company: His close friends also are struggling with love and life."
So reads the effective, but also vague two-lines synopsis from Netflix. The film is indeed a coming-of-middle-age story, very cleverly and attractively filmed by the then young director Gabriele Muccino. Muccino would later make two successful American films with Will Smith.
Muccino's style is dynamic with the camera close to the leading actors, always adorned with beautiful locations and people. In 2006, American Tony Goldwyn made a remake of the film under the same English title.
This film was also the breakthrough for, among others, Pierfrancesco Favino, one of the best Italian actors of the moment. His work includes small roles in American films like 'Angels and Demons' and 'Night at the Museum'.
RELATED: If you are interested in 'Angels and Demons', you should read this article about where they filmed the movie in Rome.
Director: Gabriele Mainetti
Leading Actor: Claudio Santamaria, Luca Marinelli
Year: 2015
Genre: Sci-fi / Comic
Italian title: Lo chiamavono Jeeg Robot
Why to watch: original script, acting, Rome locations
English subtitled: yes
This low-cost production (€1.7 million) is the debut of Mainetti (who has made only one other film since). The film is a cheerful break with the usual themes of most films. The leading actor (who we also know from 'The Last Kiss') is excellent. Like many Italian films, this feature was shot in Rome (and in the studio).
The title of the film is a reference to the so called mecha anime series 'Jeeg Robot of Steel' by Gō Nagai, as one of the main characters believes that Hiroshi Shiba, the hero of the series, exists in the real world and identifies him with the leading character.
Director: Paolo Genovese
Leading Actor: Marco Giallini, Anna Foglietta
Year: 2016
Genre: Drama / comedy
Italian title: Perfetti Sconosciuti
Why to watch: Sparkling one location film, top script
Platform: Netflix
English subtitled: yes
'Perfect stranger' has a special record to its name, and that says a lot about its universal value. The film has the most remakes in the history of cinema, according to the Guinness Book of Records. The film cleverly taps into the then (2016) general spread of smart phone use. This is how Netflix presents the film:
A dinner party unravels when a group of friends agrees to leave their phones on the table, airing the contents of their correspondences – and secrets.
Director: Marco Bellocchio
Leading Actor: Pierfrancesco Favino
Year: 2018
Genre: Biopic / Crime
Why to watch: genuine mafia story, the actor Favino
English subtitled: yes
The film is based on the life of mafioso Tommaso Buscetta, who is portrayed in the film by Pierfrancesco Favino. This actor proves again to be one of Italy's best.
Buscetta was the first mafioso of significance to cooperate with the judiciary (1980s) that led to the mafia being virtually defeated (1990s).
I find the film, which is also known by its English title 'The Traitor', quite deja vu. That may have something to do with the fact that we in Italy are familiar with Buscetta's life and the long court cases it led to.
Anyway, the film is good as a proper mafia film without too much glamour.
Even more Italian Movies on Netflix (N) and Amazon Prime (A)
Some other also rather good Italian movies on Netflix and Amazon are the following:
Miracolo a Milano (1950, drama, Vittorio De Sica) A
Il Divo (2008, biopic, Paolo Sorrentino) N
Benvenuti al sud (2010, comedy, Luca Miniero) N
Loose Cannons (2010, drama, Ferzan Ozpetek) N
La pazza gioia (2016, drama, comedy, Paolo Virzì) A
Call Me by Your Name (2017, drama, Luca Guadagnino) N