If you want to watch Italian films at home or on your own device, you are bound to have Netflix or Amazon Prime. There is a fairly large selection of (free) Italian movies .
Watching Italian movies
Italy has been famous for its films since the invention of the cinema, especially since World War II. Names like Sophia Loren and Marcello Mastroianni are world-famous. But nowadays Italy is still a force to be reckoned with. Paolo Sorrentino, for example, is one of the most appreciated directors in the world.
RELATED: Also check out which films make up our top 12 best Italian (anti-) mafia films
But watching Italian films outside Italy is not that easy. Fortunately, there are (legal) streaming services. However, most streaming services such as Lulu, HBO, Showtime and Disney+ have few Italian offerings. Amazon Prime does have a reasonable content of Italian films, but some content does not come free within the subscription. Netflix also offers some interesting (free) Italian movies.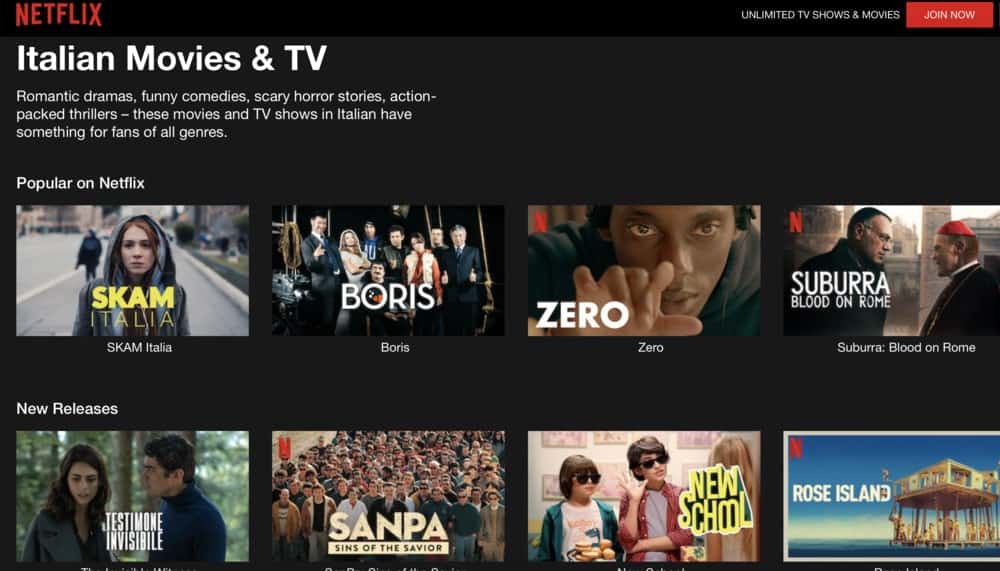 Best Italian movies on Netflix and Amazon
In my top 24 italian movies on Netflix of the moment (summer 2021) I made a mix of films of the last 75 years. My selection is a blend of newly released films, older ones, comedy, drama, TV series, but all chosen films are quality movies. However, it is not to say that these are the best Italian films of all time. I have kept to what the streaming services offer.
24 best recommendations in 2021
The titles can be watched from within the US and UK, among others. The films have been adapted for audiences who do not understand Italian. In Europe and especially in Italy, the choice of Italian movies on Netflix and Amazon is bigger.
Here are my top 24 best Italian movies on Netflix and Amazon Prime, ordered by the year of release:
Director: Roberto Rosselini
Leading Actor: Ingrid Bergman
Year: 1949
Genre: Drama
Why to watch: Experience neo-realism: a story set among the poor, long shots, on location, use of non-professional actors
Platform: Amazon (IMDb TV)
English subtitled: yes
Our lineup should include a film by Roberto Rosselini, the master of neo-realism. The film on the volcanic island of Stromboli is seen as a high point of neo-realism, but not at the time of the release of the film. International audiences and critics reacted in a particularly volcanic manner to the extra-legal relationship between the director and his muse, Ingrid Bergman, the Hollywood star.
Director: Luchino Visconti
Leading Actor: Anna Magnani, Walter Chiari
Year: 1951
Italian title: Bellissima
Genre: Drama
Why to watch: A satire on the romantic illusions of the movie industry – still very much relevant. And to watch Magnani
Platform: Amazon
English subtitled: yes
Maddalena (Magnani) lives in a poor neighborhood in Rome. She enrolls her young daughter in a talent show at the Cinecittà studios. Maddalena wants her daughter to be chosen. She has spared no expense to ensure that her daughter is the most beautiful and best-dressed contestant.
The film is quite topical, because the film makes a mockery of outward appearances. The director is one of the most famous directors of the post-war period. The leading lady is another tiger of European film: Anna Magnani (won an Academy Award).
Even more Italian Movies on Netflix (N) and Amazon Prime (A)
Some other also rather good Italian movies on Netflix and Amazon are the following:
Miracolo a Milano (1950, drama, Vittorio De Sica) A
Il Divo (2008, biopic, Paolo Sorrentino) N
Benvenuti al sud (2010, comedy, Luca Miniero) N
Loose Cannons (2010, drama, Ferzan Ozpetek) N
La pazza gioia (2016, drama, comedy, Paolo Virzì) A
Call Me by Your Name (2017, drama, Luca Guadagnino) N