The best Italian movies and Italian indie films of 2022 conveniently grouped together in one article.
Best Italian movies
Every year, Italy, one of the countries with the greatest film tradition in the world, releases about 250 homegrown films. To be precise, in 2018, for which the latest figures are known, 273 Italian movies were produced. 'Italian film' means an Italian feature film that has received permission from the Department of Culture for public screening during the calendar year.
Indie films
I've selected the best 10 Italian movies for the 2022 season (with also titles of the last months of 2021). Most of the films are of a genre that would be called in the United States 'indie films'. By indie is actually to be understood 'independent': films that have not been made by major studios.
That is not really the case in Italy. Many films in Italy are (co-) financed by state television (Rai Cinema). Most of Italian movies are small productions with a medium budget. This means production costs between 200,000 and 1.5 million Euros (2008 data from the Federation of Cinema Entrepreneurs). Apart from the fact that the productions are small, most Italian films are 'indie films' anyway because most of the films are not 'commercial': slow story development, attention to social themes a.s.o.
Related content: Check our other article, if you're more interested in the best Italian movies of all time that can be viewed by streaming
This content is not shown.

Click on this block to display all our content, by accepting our cookies or review our cooky-policy below.
Italian movies rating
I have spoken personally with most of the directors of these films in the context of meetings with the organizing committee of the Globo d'Oro Film Prize, of which I am a member. The Globo d'Oro is the prize for the best Italian film of the year issued by the Foreign Press Club in Rome.
Views are personal as are my ratings (with points on a scale of 1 to 10). They are however based on a profound experience of Italian cinema.
A Girl Returned
L'Arminuta
Director:

Giuseppe Bonito 8

Actors: Sofia Fiore 9, Carlotta De Leonardis 10
Screenplay: Monica Zapelli, Donatella Di Pietrantonio, Giuseppe Bonito 9
Music: Giuliano Taviani, Carmelo Travia 8
Why to watch: Excellent rendering of 'abandonment' theme + debut of new Loren
Rating: 9,0
DVD of L'Arminuta
Original Italian version
A 13-year-old girl from a neat middle-class background is suddenly placed in a poor and uncultured peasant family. She just doesn't understand what's happening to her, and the reason for the sudden out-of-home placement. And neither do we as spectators. When we finally find out the reason, we sympathize with 'the returned girl' (that's the meaning of the film title). We feel her detachment and her sense of not belonging anywhere.
It's a very beautiful film based on a bestselling book.
I asked the rather unknown director how he, and not a famous filmmaker, managed to get the green light from the writer to film her book. That was a matter of having immediately faith in the book, he said, and I think also because of the director's modesty. The film's photography is also very fine. The two young actresses a real surprise. Carlotta De Leonardis is like the new Sophia Loren.
Experience L'Arminuta/ A Girl Returned for yourself:
This content is not shown.

Click on this block to display all our content, by accepting our cookies or review our cooky-policy below.
Director: Leonardo Di Costanzo 8
Actors: Toni Servillo e Silvio Orlando 8
Screenplay: Leonardo Di Costanzo, Bruno Oliviero and Valia Santella 7
Music: Pasquale Scialò 8
Why to watch: Fine acting work
Rating: 8,5
DVD of Ariaferma
Original version
Original feature about the relationship between prison guards and inmates, with at most a slight link to 'The Green Mile'. The Tom Hanks from that film is called Tony Sevillo in 'Ariaferma'. Sevillo is possibly Italy's best known actor abroad. He owes that to films with Paolo Sorrentino (The Great Beauty, The Hand of God). In both these films, Sevillo is the exhorbitant man, in 'Ariaferma', however, he is completely different: cool, a man who has trouble giving up his institutional role for a little humanity. The other lead actor (Orlando) also shows a fine acting performance.
The brotherhood between prisoners seems a bit forced to me though. I can't imagine that it goes on so peacefully in a prison. Not exactly 'The Green Mile', where an inmate is bullied by his colleague. Anyway, photography and music provide an extra in this film, which is one of the best of the season so far.
Experience Ariaferma for yourself:
This content is not shown.

Click on this block to display all our content, by accepting our cookies or review our cooky-policy below.
The Hidden Child
Il bambino nascosto
Director: Roberto Andò
Actors: Silvio Orlando and Giuseppe Pirozzi (the child) 8
Screenplay: Roberto Andò
Music: no original
Why to watch: Fine story + difficult Naples neighbourhood
Rating: 8,5
DVD of The Hidden Child
Original in Italian
Naples is well represented in the Italian film scene again this year. 'The Hidden Child' also has (a 'difficult' neighbourhood in) Naples as a setting.
One of the assets of Italian filmmaking is there is no shortage of good acting. In this film, we also have a rather fine debut for the 14-year-old Pirozzi. He is supported by Silvio Orlando ('Inner Cage'), one of the most famous faces on screen, although mostly cast as a sidekick.
The amaible director Andò (63) is a jack-of-all-trades: novelist, theatre director and filmmaker. This film, only his nineth, is about a child who hides from the camorra (the underworld), but at the same time about an older man who has never had much guts. The film quote, by a magistrate, "If you have to choose between the law and love, I prefer love" nicely expresses the theme of the film. The movie is beautifully accompanied by classical sounds of Schubert and Beethoven.
Experience The Hidden Child for yourself:
This content is not shown.

Click on this block to display all our content, by accepting our cookies or review our cooky-policy below.
The Hand of God
È stato la mano di Dio
Director: Paolo Sorrentino 8
Actors: Filippo Scotti 8 and Toni Servillo 8
Screenplay: Paolo Sorrentino 7
Music: Lele Marchitelli 9
Why to watch: Every Sorrentino is a delight + Naples at its best (and without camorra)
Rating: 8,0
Paolo Sorrentino Director's Collection
'Hand of God' DVD is not available
The most successful Italian director of this century is Sorrentino. That is what I and (other) critics think, but this film did not make me fall off my chair. Still, the film has won important awards and nominations, such as the Grand Jury prize at the Venice Film Festival 2021 (actually the number two prize), the David of Donatello award 2022 (best film) and Golden Globes and Oscar nominations.
Read about all Italian films at the last Venice Film Festival
Sorrentino's style is clearly evident in this film. The characters are almost caricatures, often fleshy Fellini-like persons, a intrusive camera setting and strong color photography. As always in Sorrentino films: a great soundtrack.
The city of Naples claims the leading role in the film. Just as Rome is the central character in 'The Great Beauty', Sorrentino's most acclaimed film. Naples is the beautiful backdrop to this story that is a coming to age of the main character, Sorrentino's alter ego. The imagery of Naples 'on the Sea' and the Gulf with Capri is like a love declaration from the director. I am sure the local tourism promotion board is very happy with.
Read about The Great Beauty and other 23 best Italian films of all time
Actor Tony Sevillo is again a sort of Jep, the king of the Roman jet set in The Great Beauty. In this film however, he is a bank clerk, but has a similarly exuberant demeanour. We know Sevillo keeps playing the same tune, but can certainly perform other roles as well, as we have seen in the film 'Ariaferma'.
Experience The Hand of God for yourself:
Director: Gabriele Mainetti 8
Actors: Claudio Santamaria and Pietro Castellitto 8
Screenplay: Gabriele Mainetti and Nicola Guaglianone 8
Music: Michele Braga and Gabriele Mainetti 7
Rating:

8,

0
Streaming of Freaks Out
Original version
The original title of this film is English and rightly so. I have not very often seen such an American-style Italian film. It is a top-notch piece of spectacle with a number of people who – indeed – regularly freak out.
Mainetti, the director, is also one of those younger Italian directors who immediately reaches high (without becoming arrogant). His first film, from 2015, was a huge success. I have put 'They Call me Jeeg', as is the name of that movie, in the list of best Italian films of all time.
This is only Mainetti's second film, and one with a budget of no less than €13 million, a huge amount by European standards. The film is also unusually long (140 minutes), which is another proof of Mainetti's individuality. Mainetti, in a sense, has American roots. His grandmother was from New Jersey, as he told me, and he himself spent six months at a New York art school.
In Freak Outs, too (as in They Call me Jeeg Robot), we are dealing with a lot of fantasy, but also with a lot of horrible history, and morality. The whole setting takes place during the German occupation of Rome in 1943. For Rome fans: the film was shot in the former ghetto of Rome and in Fort Bravetta plus in Viterbo. The film won the Audience Award at the 51st Film Festival of Rotterdam, that is kind of my home town.
Experience Freaks Out for yourself:
This content is not shown.

Click on this block to display all our content, by accepting our cookies or review our cooky-policy below.
America Latina
America Latina
Directors: Damiano and Fabio D'Innocenzo 8
Actor: Elio Germano 9
Screenplay: Damiano and Fabio D'Innocenzo 7
Music: Verdena (rock group) 7
Why to watch: Nice Moretti drama in Rome
Rating: 7,8
Streaming of 'Bad Tales'
The other D'Innocenzo masterpiece
If the film 'Favolacce' ('Bad Tales', 2020) already gave you an oppressive feeling, then you can get ready for 'America Latina'.
Favolacce was only the second film by the D'Innocenzo brothers, who I think are the hottest filmmakers around at the moment. Their style is a mix of harsh turmoil, bold colours, great tension and surreal reality.
America Latina is their third film. Again, it is ostensibly about a neat middle-class family, but it ends in tragedy.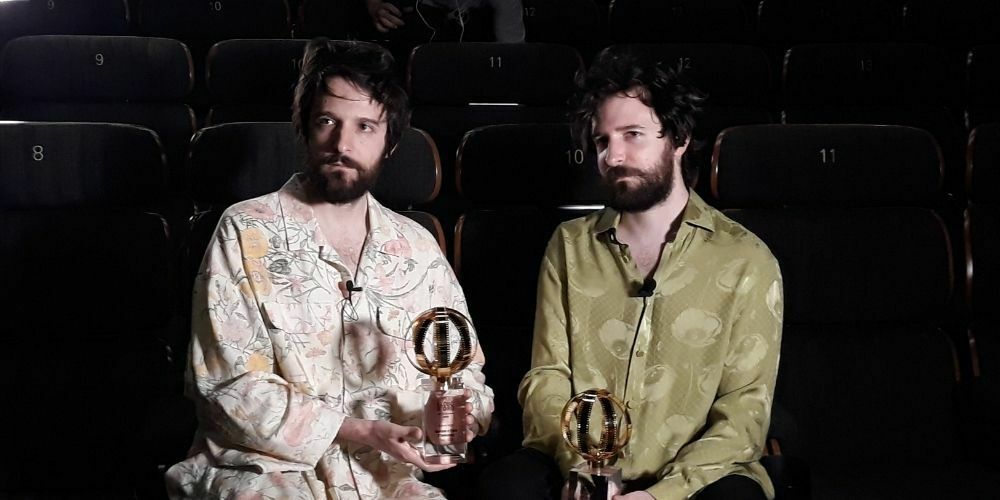 Leading actor Elio Germano is in my opinion Italy's best actor. He can handle all roles: the almost psychadelic role in this film as, for example, the verbally handicapped painter Ligabue ('Hidden Away', 2020).
The D'Innocenzo brothers are reportedly going to shoot their next film in the United States in 2023. Good thing. Then they will become a little more famous. They deserve it.
Experience D'Innocenzo movies for yourself:
Director: Francesco Lettieri 8
Actors: Andrea Carpenzano 8
Screenplay: Francesco Lettieri and Peppe Fiore 7
Music: Paco Martinelli 8
Why to watch: Empathise (or be annoyed) by a drug addict of this millennium
Rating: 7,5
DVD of Lovely Boy
Original version
It's hard to understand the youth 'of these days'. They seem to have so few ideals, passions, and always look into that eternal smartphone. The young man who goes by the name of Lovely Boy is also one of them, but with success as a trap singer. His life however slips away from him as he falls further and further into drug abuse.
It is a bit like 'Zoo Station: The Story of Christiane F.' (1978) , and you feel with the main character, very well portrayed by Andrea Carpenzano, who plays his lifelessness very well (but who knows, the actor is in reality also lacklustre).
The director, who is an experienced music video director, and that's evident in this film where (t)rap music also plays the leading part, says he doesn't want to warn against drugs. However, I think the film is strong because it is indeed a deterrent to going into drugs. The film comtains lots of strong original (trap)music by Paco Martinelli.
Experience 'Lovely Boy' for yourself:
This content is not shown.

Click on this block to display all our content, by accepting our cookies or review our cooky-policy below.
Director: Nanni Moretti 7
Actors: Riccardo Scamarcio 8 and Margherita Buy 7
Screenplay: Nanni Moretti, Federica Pontremoli, Valia Santella 7
Music: Franco Piersanti 8
Why to watch: Nice Moretti drama in Rome
Rating: 7,5
DVD of Three Floors
Original version
Films by the renowned Nanni Moretti are not to be missed. And they don't have to. Moretti only produces an average of one film per lustrum. His most famous ones are Caro Diario (1993), Habemus papam (2011) and Mia Madre (2015).
'Three floors' is not Moretti's best; I think it's a bit shallow. That's what you get when you want to tell too many stories in one. But still it is a nice drama, as far as a drama can be nice.
The film is, to my knowledge, Moretti's first film based on a book, and namely written by Eshkol Nevo. In the originel, the setting is an upper-middle-class Tel Aviv apartment building. In this film, it is relocated to a similar building in Rome. Those who know Rome will understand that the flat complex ls on Via Giuseppe Montanelli 5 (Prati area, not far from the Vatican). The film revolves around the problems of the residents on three floors, such as those in the relationship sphere and someone who causes a fatal accident. Inevitably, the inhabitants meet and then collide, so to speak.
Apart from Moretti himself as the authoritarian pater familias of the third floor, the main characters include Riccardo Scamarcio. This actor, well known in Italy, who in my opinion is acting in too many roles, has captured his character well in this film. I liked him, as is not always the case. Margherita Buy, as the submissive, nervous wife of Moretti, plays the role she always has in Moretti's films.
Experience 'Three Floors' for yourself:
Welcome Venice
Welcome Venice
Director: Andrea Segre 8
Actors: Andrea Pennacchi 8, Paolo Pierobon 7
Screenplay: Andrea Segre, Marco Pettenello 7
Music: Teho Teardo 7,5
Why to watch: Fishermen's tale with topical theme
Rating: 7,5
DVD of Welcome Venice
Original version

Venice's problem is not so much that it is in danger of flooding. High tides have recently been held back by a dam consisting of individual sections that rest on the seabed and only come up in case of emergency.
Read about the Venetian storm surge barrier and other typical things about Venice
No, the real problem of Venice is its depopulation. Few 'natives' live in Venice anymore. The picturesque part of Venices, like the canals and the gondolas, will always remain, but the risk of the city losing its soul, its authenticity, is very real.
Well, that risk, that problem, comes to the fore in this nice film. Two Venetian brothers have long since sold their souls. But a third brother, a fisher of moeche (small lagoon crabs) stays and does not want to convert his house into a B&B. In the end, he has to give in, but not without taking revenge in an original way.
Experience 'Welcome Venice' for yourself:
This content is not shown.

Click on this block to display all our content, by accepting our cookies or review our cooky-policy below.
Director: Manetti Bros. 7
Actors: Miriam Leone 6, Valerio Mastandrea 7, Luca Marinelli 6
Screenplay: Manetti Bros., Michelangelo La Neve 6
Music: Pivio and Aldo De Scalzi 7
Why to watch: Italian's Spider Man, nice photography
Rating: 7,0
DVD of Diabolik
Original in Italian
The Italian comic book hero Diabolik, 'born' in 1961, is an experienced and athletic master thief. He has a large number of masks with which he can impersonate anyone. Originally, Diabolik was a villain who did not hesitate to kill any opponent. Later on, he acquired a Robin Hood-like personality.
Since his third comic strip (1962), Diabolik has been assisted by Eva Kant (Miriam Leone in this film). Diabolik's biggest opponent is Inspector Ginko (Valerio Mastandrea). Diabolik always drives a black Jaguar E-type from 1961. The thief always wears a tight black suit that leaves only his eyes and eyebrows visible.
All these ingredients return in this beautifully crafted film, a European version of Spider Man. Although it features top Italian actors, I do not think the acting is particularly good. The script is also not very surprising. The photography, however, is top.
This movie will be available on Amazon Prime (streaming).
Experience 'Diabolik' for yourself:
Una Femmina – The Code of Silence
Una Femmina
Director: Francesco Costabile 8
Actors: Lina Siciliano 9, Fabrizio Ferracane 8
Screenplay: Liro Abbate, Serena Brugnolo, Adriano Chiarelli, Francesco Costabile 8
Music: Valerio Camporini Faggioni 8
Why to watch: mix of noir, thriller and mafia drama
Rating: 8,0
Book 'Fimmine'
The film is based in part on this book
One of the surprises of the year 2022. That's this debut film from the unknown director Costabile. The film is about a woman (the 'femmina' from the title) who breaks with her mafia family from the 'Ndangheta in the southern part of the Italian region of Calabria. This, of course, is accompanied by the necessary violence and deprivation.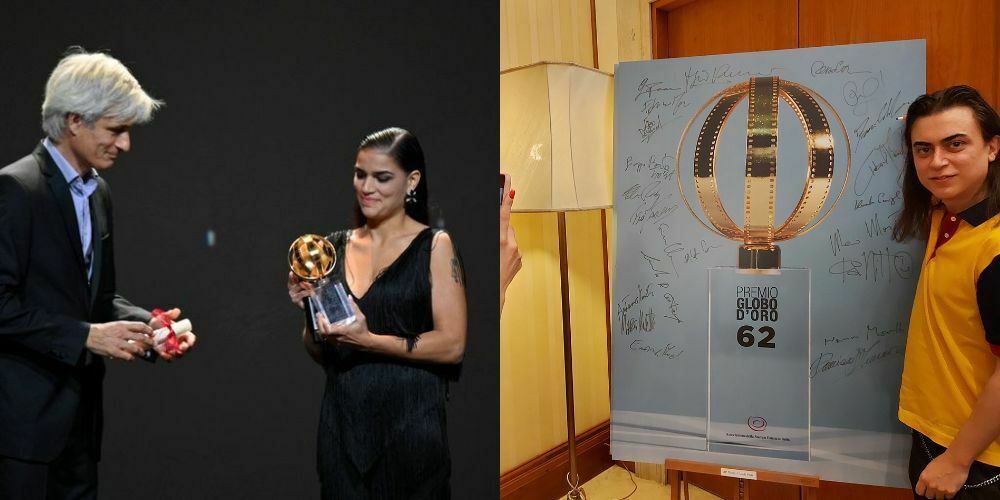 The story is beautifully portrayed (including a wonderful climax). The opening scene, occasionally camera work with blurred outlines, is artistically strong. The lead actress is also top-notch. She is from the best tradition of neorealism, in the sense that she is 'picked from the streets' and has no acting training whatsoever. Pure natural talent. The director told us that in everyday life he is a high school teacher. He too is a born natural talent.
Experience 'Una femmina' for yourself:
Your favorite Italian movie of 2022?
I hope you enjoy this list of the best Italian movies in 2022. Of course, I'm always interested in hearing your opinion! Do you perhaps have any suggestions or remarks on this list? Let me know in the comments below!