Overview article of things to do and to visit during Christmas in Rome this year (2022).
Rome is Christmas town par excellence. With all the baroque churches, nativity scenes, the highest Christmas tree contest and luxury (decorated) shops, Rome belongs to Christmas.
How is Christmas celebrated in Rome?
At first glance, Christmas is not celebrated so differently than in other (Western) countries. Nevertheless, there are differences.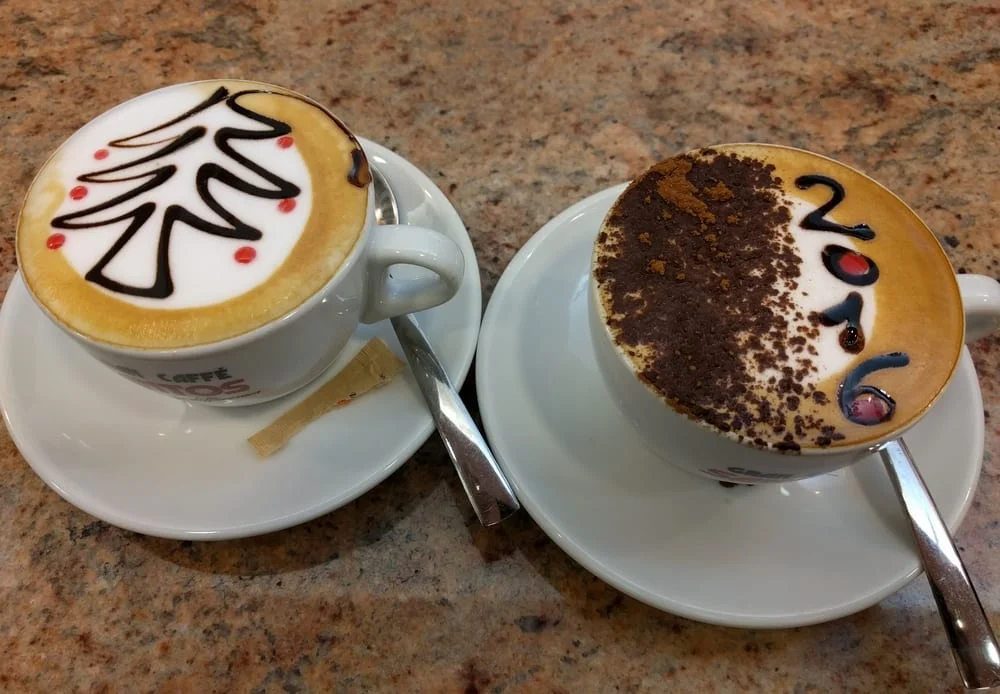 Advent
The Advent Calendar is a more typical custom in Germany, yet the Advent calendar is also becoming more and more popular in Rome. The calendar counts down the Advent period (which is the four weeks before Christmas). Advent starts in 2022 on November 27 and ends on December 24.
This content is not shown.

Click on this block to display all our content, by accepting our cookies or review our cooky-policy below.
All kinds of brands and companies now have the advent calendar in their portfolio (most start at December 1). It used to have a religious function without any presents attached, then the calendar became the tiffany's of chocolate providers. Nowadays, the cosmetics industry has also discovered the advent calendar, such as Armani and Kiko.
Christmas tree and nativity scene at home
The Christmas tree is also an integral part of Italian Christmas celebrations. But beware. the tree may not be put upwards until December 8. Not that you will be arrested by a kind of Christmas tree police, but that's tradition. First, the important Catholic feast of Mary Immaculate Conception must be behind us, which falls precisely on December 8.
The nativity scene is very Italian. Many families build a small version at home, on the same day that the Christmas tree is put up. Many stores, like construction store Leroy Merlin, have a separate section that sell objects and figurines for the nativity scene.
Christmas Eve
For those who don't know, Christ was born on December 24, and in a country with a strong Catholic tradition, that fact is also celebrated, and it's not just about food and gifts. Traditionally, people go to church on Christmas Eve although not everyone adheres to that custom anymore due to secularization. On this evening the Christ child is placed in the manger of the nativity scene (at home or/ and in the church), a tradition entirely made in Italy.
Christmas Eve is thus a typical family evening. Most families or groups of friends then have their pack night.
Dinner at home is 'lean' and according to tradition contains no meat. It is fish that is on the table. Take the Italian state president. From his kitchen in 2020 came risotto alla pescatora (fisherman's risotto) and fried fish, the presidential master of ceremonies stated.
Ideas for Christmas home cooking can be found on one of the most important Italian cooking sites (also in English).
This content is not shown.

Click on this block to display all our content, by accepting our cookies or review our cooky-policy below.
Of course, on December 24, and throughout the Christmas season, there is the panettone and the pandoro on the table. It is also the typical ánd clichéd Christmas gift from employers to their employees. You can get pannetone or pandoro from 3 euros in the supermarket, but really good ones have a cost of about 30 euros each (1 kilo).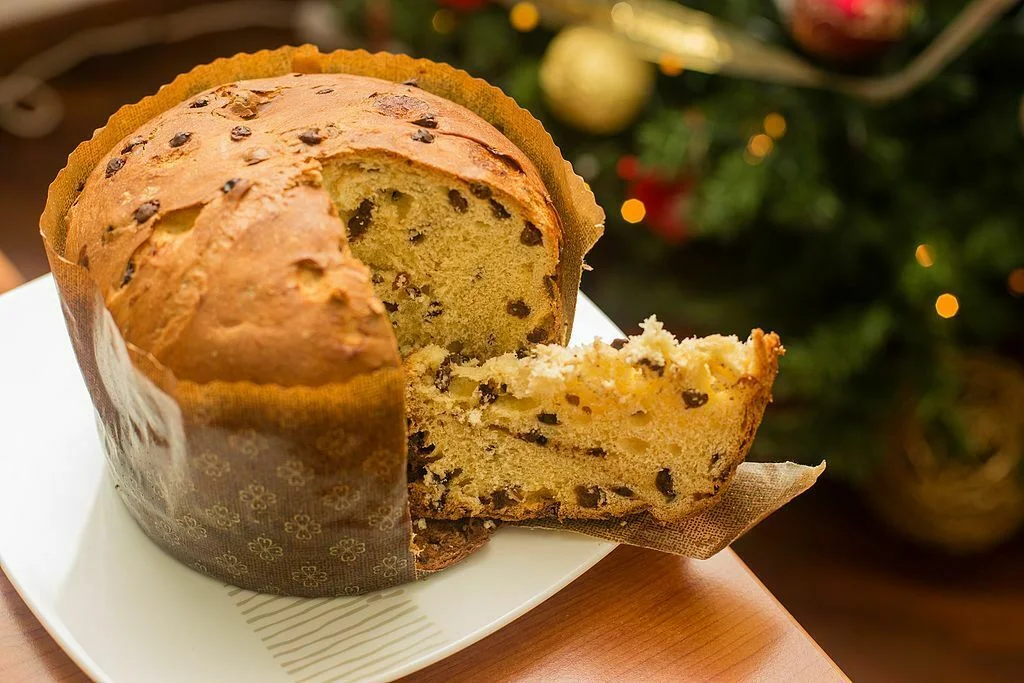 Also very traditional is to play at home a board game that is similar to bingo, which in Italy is called tombola. Often it is not about winning money, but awards in kind. Especially a must is playing the Neapolitan version, where each of the 90 numbers has a meaning.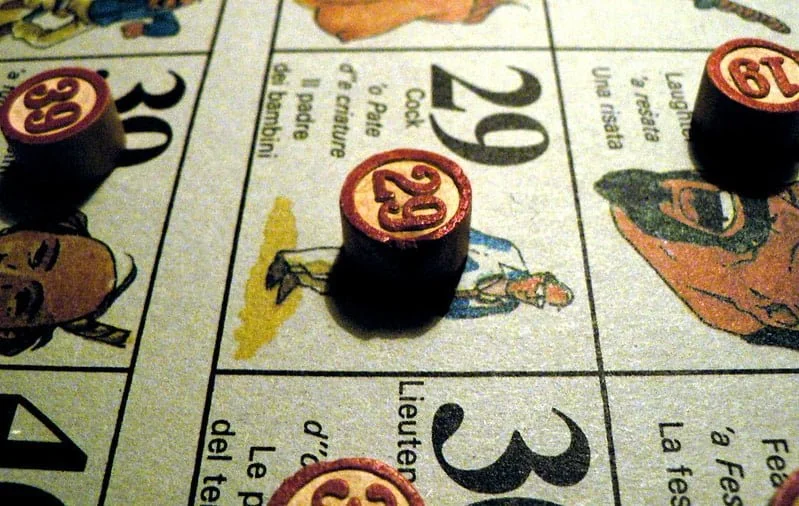 Important to note: Very few people go out to eat on this night. It is not easy as a tourist to get a restaurant booked.
Christmas Day
Is the evening of December 24 typically spent at home, on the 25th is the day to have dinner out. The key is to make reservations in advance. This can of course be done by simply calling, with the disadvantage that there may be a language problem (many Italians don't speak English). Of course you may use booking sites. Some restaurant have online options. One is our favorite, a beautiful botanical garden restaurant with original fusion cuisine: Le Serre. You do have to take the car (or bus 913 or 990) for it.
This content is not shown.

Click on this block to display all our content, by accepting our cookies or review our cooky-policy below.
Some restaurants do not accept reservations. In that case, it's waiting at the door, a pretty authentic Roman experience. But especially at Christmas, a fair number of restaurants offer (quite expensive) menus for a fixed price.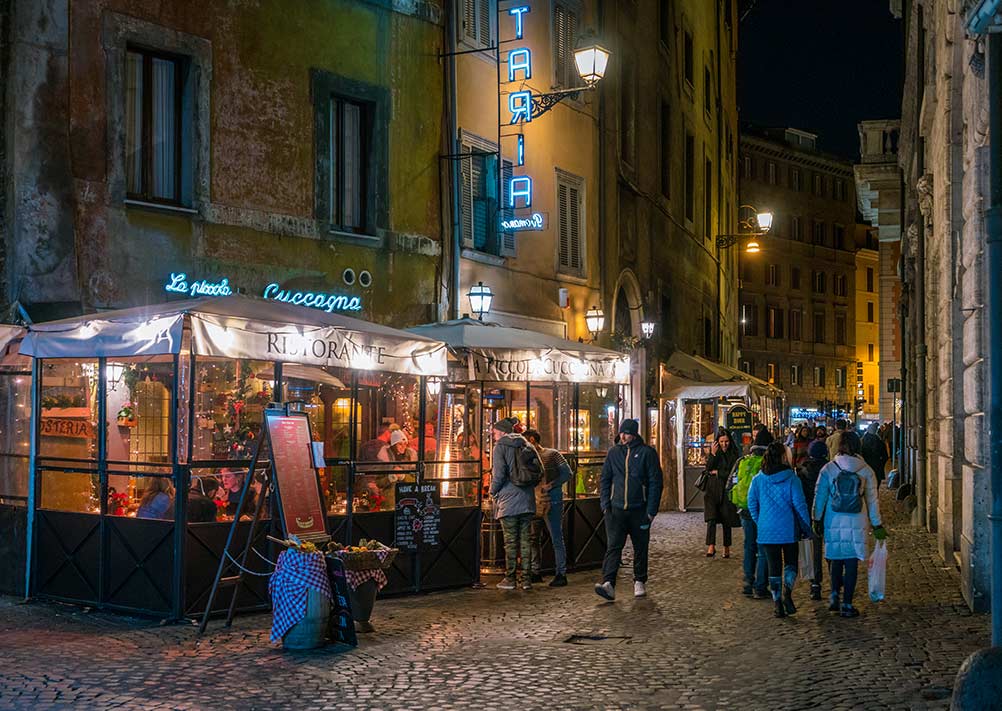 Many Italians consider the luncheon on Christmas Day to be the most important gathering during this period.
St. Stephen's Day
The day after Christmas Day is named after Stephen, an early christian saint. The classic activity is shopping and at the end of the day going to the movies with the whole family. Italy has a great tradition of cinepanettone or Christmas movies, i.e. highly successful films characterized by a simple script not sparing benalities and ambiguities.
If you are not in Rome, but still want to experience Christmas in Rome, it is a good idea to watch the (American) movie 'Christmas in Rome' from your own couch. It is certainly not a masterpiece, but still a nice way to get in the mood.
What to visit during Christmas in Rome?
Christmas Trees
Every year it is a competition who has the most beautiful and tallest: the municipality of Rome or the 'municipality' of the Vatican?
The 2017 contest was unforgettable. The municipal Christmas tree, a 22-meter tall spruce from the Dolomites was barely in place or the poor thing started losing its needles. Not just a few, it was raining needles. The spruce was already bare in mid-December. The inhabitants of Rome called him 'Spelacchio', the bald one or toilet brush.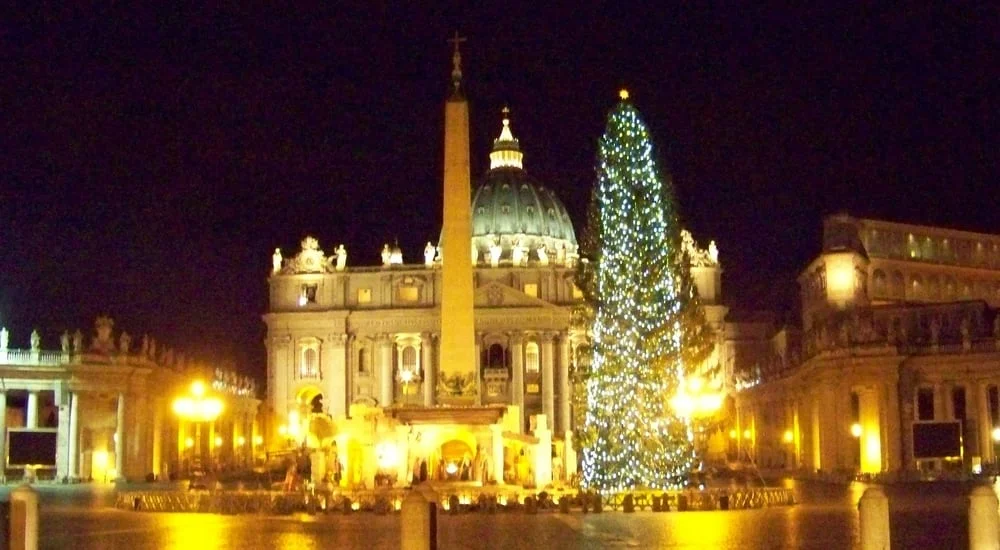 But the nickname has since become a badge of honor, and the Christmas trees since 2018 have all been called Spelacchio turning the unveiling on December 8 into an event.
The Vatican tree, two kilometers further away, is every year invariably 28 meters long and holds its needles. The Vatican Christmas tree in 2022 comes from Rosello (Abruzzo). Well, actually from the neighbouring municipality of Agnone in the Molise region, as it turned out later. The tree decorations were made by yougsters of a local psychiatric rehabilitation facility, in the words of the Vatican's media department
Piazza Venezia, as of December 8, 2022 (a 22-metre long Nordmann fir tree from the Como area)

Saint Peter's Square, starting December 3, 2022 (until January 8, 2023)
This content is not shown.

Click on this block to display all our content, by accepting our cookies or review our cooky-policy below.
Nativity scenes
Italy is the birthplace of the nativity scene, a typical Catholic tradition. This has to do with its probable introduction by Francis of Assisi, who in 1223 attended Christmas Eve in Greccio (100 km north of Rome) and thought it would be nice to liven up the celebration with "hay between the ox and the donkey".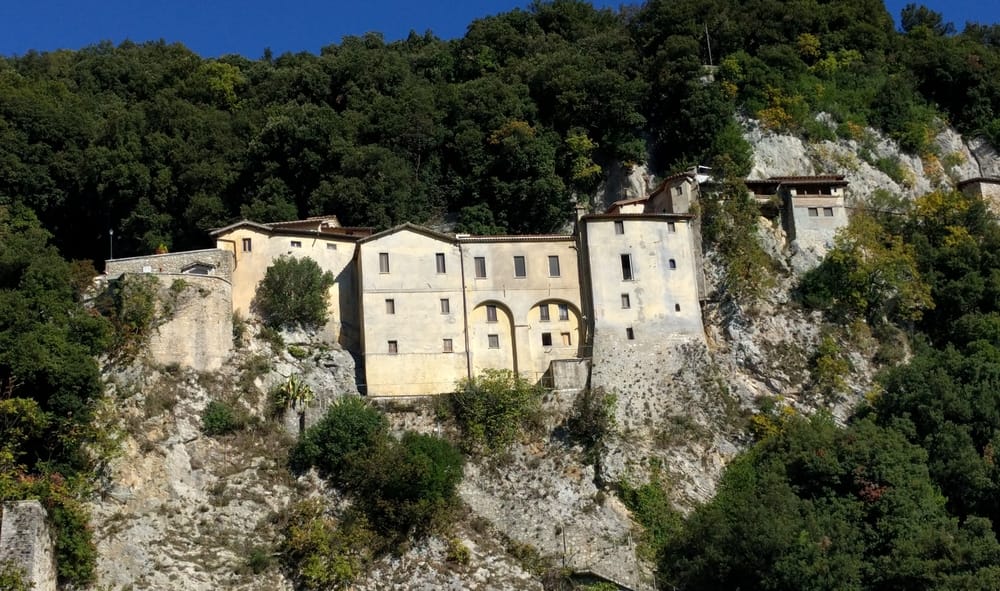 Today's nativity scene consists not only of Jesus, Mary and Josef, and stable attributes, but it also depicts everyday life, trades and people. The most elaborate and original nativity scenes can be found in Naples (Napoli).
But also in Rome you can get away with it. What else can you expect in a city with at least 366 parish churches. Note the sign 'presepio' or 'presepe'. This indicates that there is a nativity scene in the church. Most churches do have one.
We recommend the following churches in the city center:
Rome
Santa Maria in Via (near the Trevi Fountain), The nativity scene (from 18 century Naples) is located to the left of the main altar. The church is sometimes referred to as little Lourdes. In the first chapel on the right is a Madonna image and and a small tap, which allows the faithful who request it to drink the water of the ancient well, as this water seems to have produced many miracles. Via del Mortaro 24.
Santa Maria dell'Ara Coeli (next to Capitol Hill). Especially famous for the bambinello, the baby Jesus, that is venerated by the Roman people. The bambinello is carried in procession and shown to the population on January 6 at the top of the steps of the church. Scala dell'Arce Capitolina 12
Santi Cosma e Damiano (near het Forum): a permanent Neapolitan nativity scene of the 18th century. Via dei Fori Imperiali 1
Road sweepers' Nativity. The nativity scene of the road sweepers of the municipal waste collection service is an interesting permament exhibition with statues of also Pope John Paul II and Mother Teresa of Calcutta. Via dei Cavalleggeri 5
Vatican
The nativity scene, set up as usual in St. Peter's Square, next to the Christmas tree (and obelisk) in 2022 comes from Sutro in Friuli Venezia-Giulia (northeastern Italy). It consists of more than 30 wooden pieces. From December 3, 2022 to January 8, 2023
For four years now (the last being 2021), the Vatican has been holding its own nativity show. That is, in a modern space at St. Peter's Square you can see numerous nativity scenes in a kind of museum arrangement. "100 Cribs at the Vatican", Colonnade of St. Peter's Square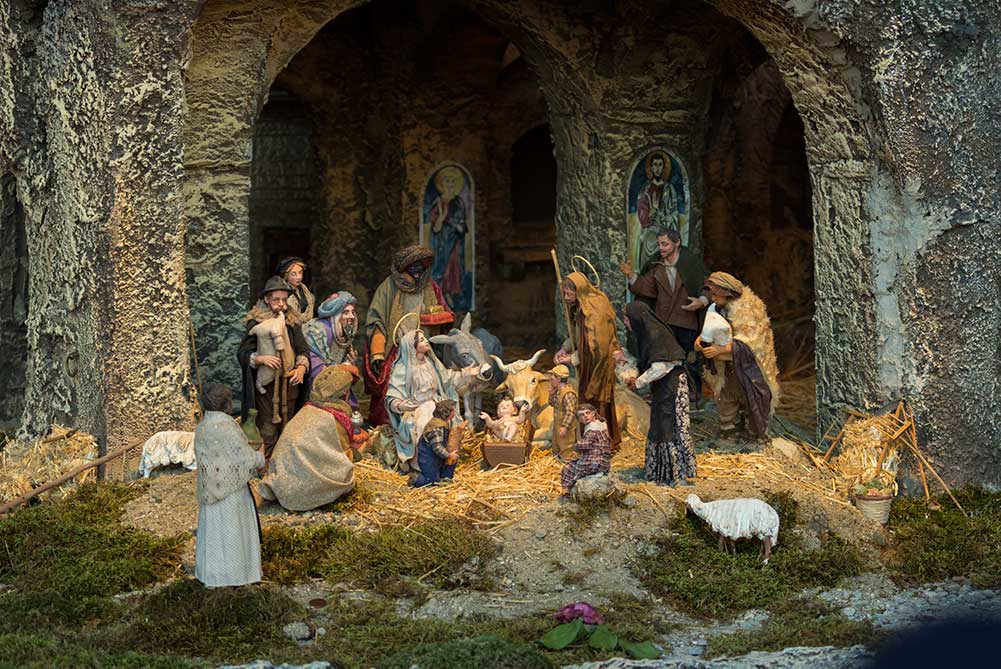 This content is not shown.

Click on this block to display all our content, by accepting our cookies or review our cooky-policy below.
Papal masses
This is the papal agenda of this year:
Christmas Night Mass on 24 December in St. Peter's Basilica (7.30 PM)
Christmas Day: 'Urbi et Orbi' Blessing (12 AM)
New Year's Eve: Pope Francis will celebrate the First Vespers and the Te Deum in thanksgiving for the past year in St Peter's Basilica (5 PM)
New Year's Day (and 55th World Day of Peace): the Pope will preside at Mass in St. Peter's (10.00 AM)
Epiphany (Jan 6, 2023): Mass will be celebrated in the Vatican Basilica (10 AM)
Baptism of the Lord (Jan 8): Sistine Chapel (Mass and Baptism of some children – access by invitation) (9.30 AM)
Read more from the 'papal household' on accessing the pope and getting (free) tickets
Christmas illuminations
Rome is no Paris, but at Christmas and New Year, the town does have a touch of the City of Lights. The traditional Christmas illuminations will be set up in Via del Corso, a 1,500-metre long 'starry sky' will be installed.
The most important monuments are also illuminated, as they are every day, and in a generally modest and atmospheric way. Illuminated monuments include the Colosseum, the Trevi fountain and the Angel's Castle.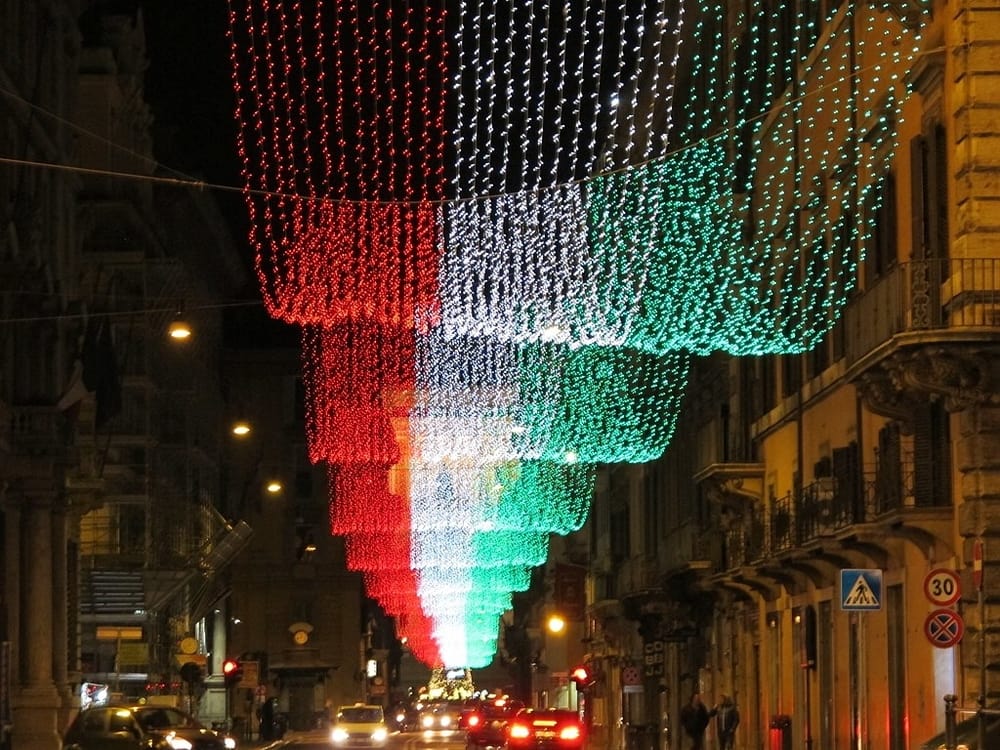 Many other shopping streets are beautifully lit, such as the Via Vittorio Veneto. In fact, each shopping street association lights their streets in their own way.
Christmas concerts
Numerous concerts are held in the period around Christmas. Rome is also no Houston (capital of hip-hop), so we are talking mostly about opera and classical music. Not surprising either, in the capital of Roman Catholicism.
Here are a few possibilities:
Kind of early for Christmas: Sunday, December 12 the traditional Christmas Concert of the Choir of the Diocese of Rome will be held in the Papal Basilica of St. John Lateran.
The Concert for Peace organised by the Vatican is entering its 30th year. This year's edition is on December 17 in the concert hall on Via della Conciliazione.
Rome's famous opera house has daily performances in December of Don Chisciotte (the ballet in three acts from the novel by Miguel de Cervantes).
The Roma Opera Omnia is a well-known performer of all kinds of concerts. They offer good quality and have the best venues in Rome, including 'Pope Innocence X' Hall at Palazzo Pamphilj in Piazza Navona. Their concerts are offered by all international internet providers, so you can't speak of an unpolished diamond. Price is on the high end.
A more accessible (in price) concert for a general audience offers the Rome Opera Concerts group. They perform an evening of a medley of piano, Neapolitan and famous Christmas songs. Concerts on Dec 22, 23, 26, 30 and Jan 2, 5 (2023). The venue is fairly central on Via Venti Settembre 7. 
This content is not shown.

Click on this block to display all our content, by accepting our cookies or review our cooky-policy below.
Christmas market
The typical Christmas market with wooden stalls, uncountable lights, Christmas items, glühwein (mulled wine) around the cathedral is a typical European phenomenon that you find mainly in Germany and the Alpine countries. In Italy, Bolzano is the place to be.
Rome also has a Christmas market in the lovely Piazza Navona. There too, wooden stands and Christmas delicacies are on display, there is an old-fashioned shooting gallery and so on. Since a few years (unfortunately) the number of stalls has been greatly reduced.
Don't forget to buy: an object of the witch Befana (in a similar role to Black Pete or wicked helper of Santaclaus), the sugared apple on a stick and the Roman donut. The market will stand until Jan. 6, 2023.
What to do with kids during Christmas in Rome?
Explora, also known by its ill-named Children's Museum, offers children from 3 years of age every opportunity to discover the world. Admission four times a day for almost 2 hours (9 euros p.p.): 10, 12, 15 and 17 hours. Open: Thursday through Sunday. Via Flaminia 82 (near Villa Borghese).
In the middle of the city, caring ladies take care of the less fortunate cats. In the ancient remains of a Roman temple, everyone is welcome to see how Micio and Micia (typical Italian cat names) are doing. Largo Torre Argentina, on the side of Via Florida.
Cinnecittà World: theme park around the (Italian) film, named after the famous film studios in Rome. 30 km from Rome's city center, next to the Outlet Center 'Castel Romano' . The park is open during Christmas and New Year's First Week, to be exactly: December 26-29, December 30 and January 2-9.
Christmas in Rome Questions
What is the Italian word for Christmas?
Christmas is a Christian holiday that celebrates the birth of Jesus also known as 'Nativity'. The Italian 'Natale' derives from that word.
What is the Italian name for Santa Claus?
Santa Claus is the corrupted word for Saint Nicolas from Bari. In Italian, he is called Babbo Natale (Daddy Christmas).
What desserts do Italians eat at Christmas?
Panettone (a bread of sweet dough with candied fruits and raisins), pandoro (eight-pointed star-shaped plain panettone) and torrone (nougat) are the sweets that Italians eat especially during the Christmas season.