We have quite handy listed all the locations in Italy that appear in House of Gucci, the movie with Lady Gaga. The film was released in the United States on November 24, 2021. A perfect post for those who want to check out the locations themselves, or to stay in the same hotel(s) as Gaga & Driver.
Trailer
On July 29, 2021 the long-awaited trailer for the film was released. Pretty speedy when you know that shooting had been completed by early May 2021.
All House of Gucci locations
The film is an adaptation of the book "The House of Gucci: A Sensational Story of Murder, Madness, Glamour, and Greed" by Sara Gay Forden. The cast includes the Hollywood stars Adam Driver, Al Pacino, Jared Leto, Salma Hayek and Jack Huston. The absolute diva is singer Lady Gaga, who plays the role of Patrizia Reggiani, Gucci's ex-wife convicted in 1995 as the instigator of her husband's murder.
This content is not displayed. Click here to display all our content by accepting our cookies
In sight of our love and passion for Italy, we would of course like the answer to the following question:
Where is House of Gucci filmed? House of Gucci was filmed entirely in Italy. From the beautiful Italian alps in the Aosta Valley to the busy fashion capital of Milan. Furthermore the breathtaking lake villa's of Como Lake and Italy's capital Rome, with its famous fashion street, were used as recording-locations.
The shooting took place in march and april 2021 (and some days in february and may).
1. Aosta Valley
2. Milan
3. Como Lake
4. Rome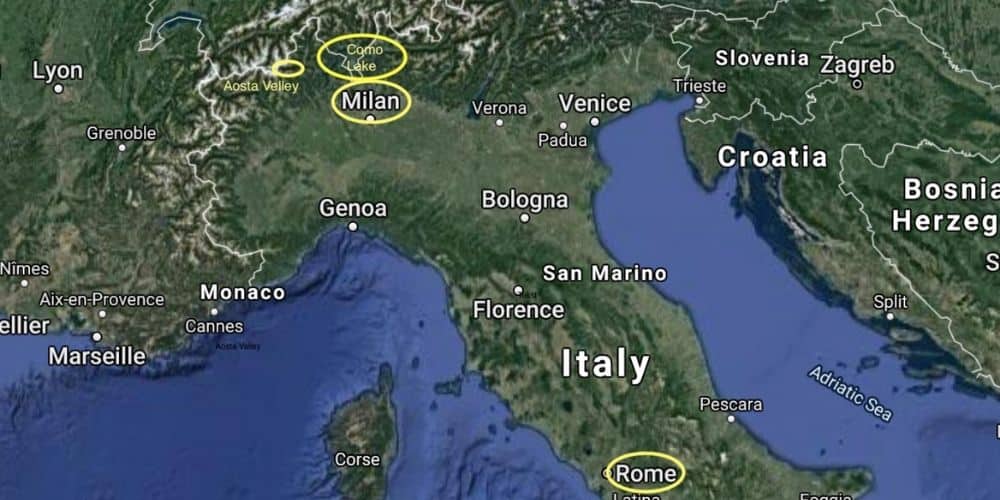 1. Aosta Valley
The filmmakers started in Italy in February 2021. First stage, a presentation and some scenes in Rome. Then directly 700+ kilometers further up to the Italian Alpine region of Valle d'Aosta (March 4-9). There, scenes were shot around Gressoney, actually in two Gressoney's (Gressoney-Saint-Jean and Gressoney-La-Trinité). The towns were transformed into Switzerland's Sankt-Moritz, where the Gucci family owned several chalets.
A. Gressoney-Saint-Jean, Villa Loubenò
This is the former villa Beck Peccoz built at the beginning of 1900 (with a name that takes the term avalanche in local dialect). You can buy a suite there for just under a million euros. A press photo taken from one of the wooden balconies, Lady Gaga herself also posted on her instagram account:
B. Gressoney-Saint-Jean, ski slope of Weissmatten
We saw Adam Driver a little shaky on the skis. He was there with a ski instructor in een red jacket. Lady Gaga was spotted in a very pretty red ski outfit with elegant belt. All that as if we were in the 1970s, the years in which much of the film is set.
This content is not displayed. Click here to display all our content by accepting our cookies
C. Gressoney-la-Trinité, Hotel Dufour
In this hotel part of the film team stayed (the rest in the larger town of Biella). Some of the props were brought to the hotel. In the large parking lot in front of the Hotel Dufour you could see an old Mercedes 350SL from 1972 and a Bentley.
Dufour is named after the 'Dufourspitze', the highest peak (15,203 ft!) of Monte Rosa. The Rosa in turn is the second-highest mountain of the Alps and Western Europe.
D. Gressoney-La-Trinité, Punto Jolanda
Along the road that leads from Gressoney-La-Trinité to Staffal, next to the picnic area and the chairlift that goes up to Punto Jolanda, the production team had rebuilt the Italian-Swiss border, complete with checkpoint, military jeeps and vintage cars.
2. Milan
In Milan, the capital of fashion and Italian economy, the film crew spent a couple of days (March 10-12). Milan is also base of the fashion house of Gucci and it's the city where Maurizio Gucci was murdered (in the Via Palestro).
A. Milan State University, Via Festa del Perdono
At this location we see Lady Gaga as she walks along the entrance of the Milan State University (corner with the small park of Largo Francesco Righini). Notable: Lady Gaga wears a headscarf. Adam Driver with trench coat also shows up. Lots of scooters and cars (a dove grey Fiat 850 for example) are around the location.
Milan boasts a number of (outstanding) universities, including Bocconi (economic university and MBA), the Polytechnic and the Catholic (Sacred Heart). The university where Gaga filmed is the State University and, like the three institutions mentioned above, appears in the list of the QS World University Rankings.
This content is not displayed. Click here to display all our content by accepting our cookies
B. Milan, Piazza Duomo and Galleria V. E.
A couple of short film scenes were shot in the shopping mall 'Galleria Vittorio Emanuele II', among others in front of Ristorante Savini. Another shot was taken in the area between the cathedral and the Galleria, two icons of Milan.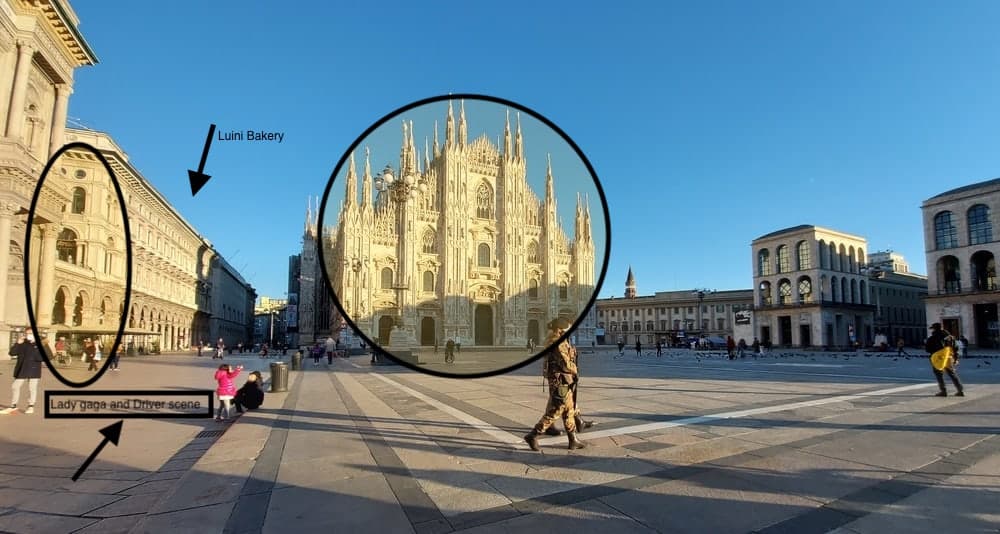 The two leading actors also take a panzerotto at the bakery Luini, a well-known address in Milan.
C. Milan, Villa Necchi Campiglio
There is a remarkable amount of photography available that was taken during the shooting of the film. But of this private location we have somewhat less so. We see Adam and Lady Gaga briefly outside, in yet another set of fantastically retro clothes.
At this location, the funeral takes place of Rodolfo Gucci (Maurizio's father). The '30s deco villa in the heart of Milan is part of the FAI, a kind of National Trust, that can be visited.
This content is not displayed. Click here to display all our content by accepting our cookies
D. Milan, Via Vittor Pisani
In this street near the central station of Milan, New York was recreated. This was evident from the supply of, among other things, a bunch of yellow NY cabs from the 1970s/ 1980s: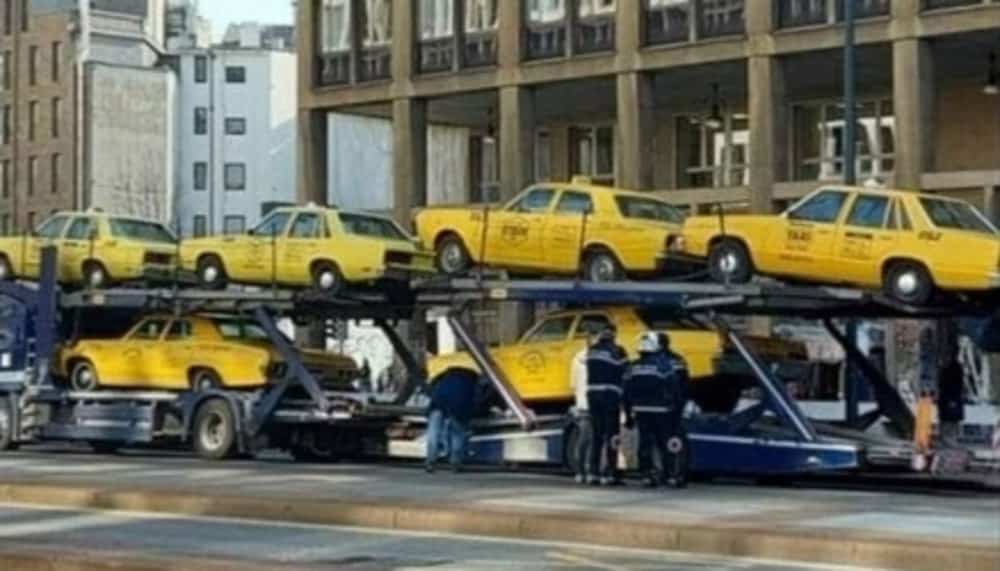 E. Milan, Hotel Parigi
Lady Gaga and part of the crew stayed in Palazzo Parigi Hotel & Grand Spa, obviously a luxurious hotel with the grandeur of Paris (actually the name 'Parigi' means 'Paris'). A one night stay starts at 600 euros.
3. Lake Como
Lake Como has been in quite a few international productions, such as James Bond (Casino Royale) and Star Wars: Episode II, but also in films by Hitchcock, Visconti, Pollack and Soderbergh. 'House of Gucci' was shot on several locations between 13 and 18 march, 2021.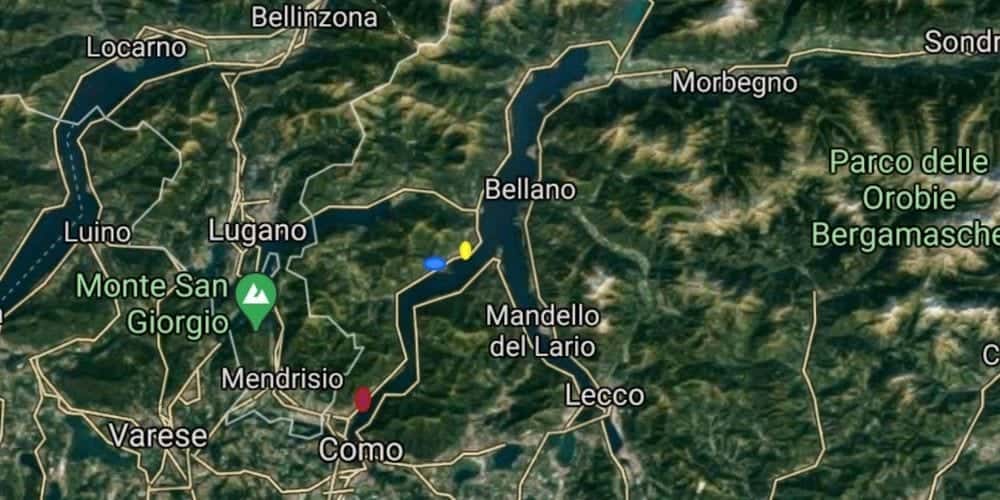 A. Ossuccio, Villa Balbiano
Villa Balbiano is one of the most beautiful villas on the lake, which is already known for its fantastic villas (George Clooney ownes one nearby). The villa (yellow dot in the graphic) can be rented for weddings and other gatherings, and is marketed by the owner under the title: 'The Italian Opulence on Lake Como'.
In the film, a big party was held by the pool is. During the shooting we have seen Lady Gaga wrapped in a white lace dress with matching jacket and a large black belt. Adam Driver arrived at Villa Balbiano already in his stage clothes, in which a blue jacket stood out.
This content is not displayed. Click here to display all our content by accepting our cookies
There is a sort of rugby match being played in the villa's extensive garden (the poor grass!). I do say rugby, but I think it's a self-invented sport. The ball is more like a soccer ball than a rugby ball. Possibly it is supposed to represent Calcio Fiorentino (Florentine soccer = an antique kind and rough form of rugby), but in that sport the men are bare-chested and not dressed like cricket players as here. See for yourself:
B. Cernobbio, Villa d'Este
Al Pacino, Jared Leto, Jeremy Irons, Adam Driver, as well as superstar Lady Gaga, have been staying at the grand Hotel Villa d'Este in Cernobbio.
Every year in September, 200 'top personalities' from the world of politics and business meet at this hotel. They discuss the current challenges facing the world in the Forum Ambrosetti as the conference is called. They spend the night also at Villa d'Este, which magazine Forbes once called the best hotel in the world. In any case, it is expensive. A night in a suite costs 3,000 euros.
C. Azzano, Vespa tour and Boat trip
The scene on the scooter in this spot cannot help but remind us of the classic movie: 'A Roman Holiday' in Rome (anno 1953). The new Gregory Peck and Audrey Hepburn are Adam Driver and Lady Gaga: new icons of Vespa life.
The waterfront of Azzano (blu dot on the map) gave us also maybe the most romantic moment of the whole movie. The two lovers were kissing in a pretty sensual shot. That was of course when all was well between Maurizio Gucci and Patrizia Reggiani.
4. Rome
The troupe (film crew) visited Rome quite long, between March 19 and May 9 -with interruptions- for the shooting of a couple of scenes in Rome… and New York.
This content is not displayed. Click here to display all our content by accepting our cookies
A. Rome, Via dei Condotti
Of course, filming had to be done Via dei Condotti, Rome's most famous fashion street. Here Lady Gaga walks past Damiani's jewelry store:
B. Rome, Via Ugo Ojetti
A total surprise was the set on this street in a suburb of Rome. The neighborhood here is called Talenti, a district nord-east of Rome with a heavy urbanization. Here was a huge set built up that was shielded from the main road with black cloths.
The production company had set up the set in front of the "Zita Fabiani" clothing store in Via Ugo Ojetti, transforming it into a "Gucci" store. The shop owners didn't realize what was happening to them either.
They wrote: "Since we opened in 1963, we never thought we'd be able to host a Hollywood production like "House of Gucci" with such an outstanding cast. In our store they filmed their takes: Al Pacino, Lady Gaga, Adam Driver and Salma Hayek. It was a unique experience."
In front of the fake Gucci shop a blue screen was fully set up. It was used for replicating the city of New York. Lots of American 'sleighs' and cabs from the 1970s/ 1980s were involved. Pretty amazing.
This reminds me of a film reenacting New York in Rome in 2013. Two guesses who the director was… right so Ridley Scott. We were there and made this photo: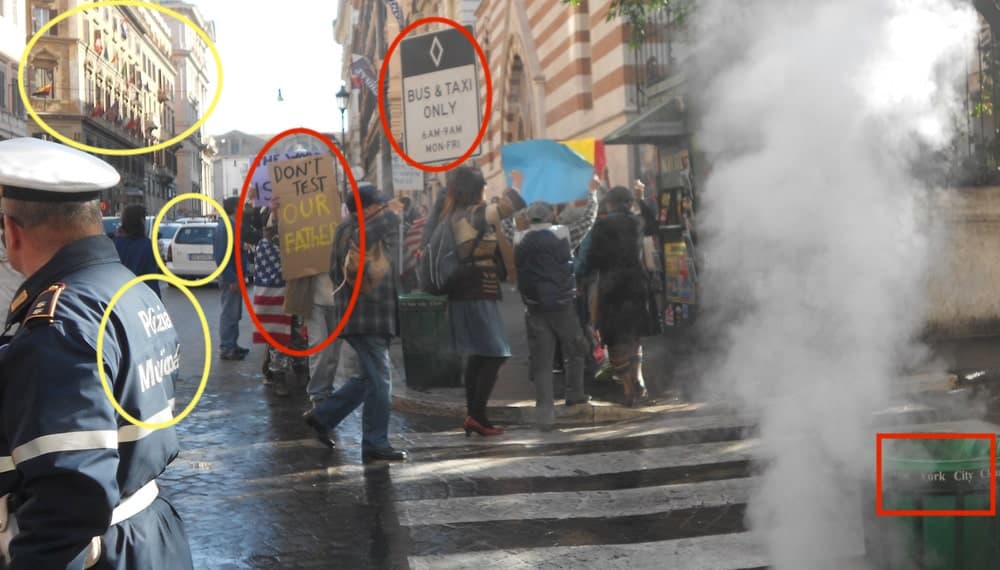 That (tv) movie had little success, indeed Scott made a pilot episode and then it was end of story. Read all about it.
This content is not displayed. Click here to display all our content by accepting our cookies
And now back to 2021, to the House of Gucci:
C. Rome, Via Acherusio
Five kilometers from the fake Gucci shop in Talenti, a scene was also shot at the Istituto Cristo Re, a Catholic elementary and secondary school. Their Latin motto reads 'from the heart to wisdom'.
Whether the production company was so wise in their organization is questionable. An entire scene ended up on Youtube. In this clip beneath we see Lady Gaga as Mrs. Gucci and Jack Huston at the (Catholic) school to pick up their child. That doesn't go without a a fight:
D. Fiumicino (near Rome), Parco Leonardo
The filming was shot in the parking lot of the Leonardo shopping mall in a setting of the second half of the 1900s, recreated also thanks to the presence of a series of vintage cars.
E. Rome, Church of Santa Maria in Portico in Campitelli
Rome is known to be a fantastic wedding location, so we were not surprised when we saw Lady Gaga in a fabulous wedding dress on April 8, 2021. She was getting married to Maurizio Gucci, well of course 'as if'. The church that the production had picked for it is a large church that is also often chosen for weddings of Romans in real life. The building is located near the former ghetto and also not far from the city hall at Capitol Hill.
F. Rome, Coppedè district
This neighborhood, consisting of only a few streets around a circular square, is one of the most beautiful in Rome. It was built in the years 1915-1927 by Gino Coppedè in the so-called Liberty style (Art Nouveau).
In this neighborhood the film crew shot scenes (April 14-15, 2021), including in the Piazza Mincio and in Via Arno. From his home on that street, Italian film director Paolo Genovese filmed with his phone a scene of Adam on a bicycle:
G. Rome, Court of Justice, Piazza Cavour
Lady Gaga appeared on April 23 in Italy's highest court, the cassazione. Of course it was in her role as Patrizia Reggiani, Gucci's ex who couldn't cope with the divorce. She ordered a killer to get rid of her ex-husband. Well, that's the plot of the film.
The scenes were shot on the second floor in the Aula Giallombardo, a huge neo-classical hall. The whole building looks mighty, a typical late nineteenth century building in triumphal style. It doesn't really fit in with Rome's graceful lines and small alleyways, not there near the Angel's Castle and the Vatican. The building is therefore mockingly called the 'ugly building'. In Italian: Palazzaccio.
This content is not displayed. Click here to display all our content by accepting our cookies
H. Rome, Via Veneto, Hotel Baglioni Regina
The movie stars stayed in Rome a couple of times (end of february, mid-March until early May, with intervals) in this hotel. The Hotel Regina, part of the hotel group Baglioni, is one of the more luxurious hotels in the Italian capital. The price is not so bad: about 400 euros per night for one double room.
One of the times Lady Gaga left the hotel she had to go through a corridor of tent canvas to the black van so no paparazzo could take a picture of her.
On May 9, 2021, Lady Gaga left the hotel for good. She greeted her fans at the outside door and tossed them a few yellow tulips. She had watering eyes as if she was already homesick for Italy.
I wish to thank all of Italy for cheering me on while I film this movie—I hug & kiss you, tell you I believe in you ❤️ prayers ???to my place of origin—a country built on the promise of hard work & family. I hope I made you proud. I'm proud to be Italian. Ti Amo. #HouseOfGucci

— Lady Gaga (@ladygaga) May 9, 2021
F&A about the House of Gucci locations
Where was Lady Gaga staying in Rome?
Lady Gaga was staying in The Baglioni Hotel Regina in Rome during the shooting of the film 'House of Gucci'. She stayed there some days in February 2021 and long periods between mid-March and early-May 2021.
Where was Lady Gaga Vespa tour set?
In the movie 'House of Gucci' Adam Driver pilots a vintage Vespa scooter near Lake Como, Italy. Seated behind is Lady Gaga. The scene was shot in Azzano, north of Como.
Where was Lady Gaga staying in Milan?
Lady Gaga and part of the crew stayed in Palazzo Parigi Hotel & Grand Spa during the filming of 'House of Gucci'. This luxurious hotel has the grandeur of Paris (actually the name 'Parigi' means 'Paris'). A one night stay starts at 600 euros.
Where in New York is House of Gucci shot?
The New York you see in the movie 'House of Gucci' was actually shot in Rome and Milan. This was convenient as the film crew was already in Italy for a long time.