The 10 best and most original ideas for parents with children travelling in Tuscany, Italy. The Tuscany with kids locations are easy to reach from Florence, the capital of Tuscany.
Tuscany is a children's paradise
Tuscany is a natural place for children. After all, one of the first (and naughtiest) children in literature comes from there: Pinocchio.
The region is tailor-made for children. There are few towns; the world-famous countryside with its rolling hills, cypresses, farmhouses and so on takes precedence. We have ten suggestions that children will love. There is, of course, tons more to do. Feel free to write us if you need a specific idea for Tuscany with kids.
Children come in all ages. Most of the activities below are for all. However, a 16-year old might not like the Pinocchio park (number 3). Very small children may fall asleep in Florence (1). It is not always easy to be a parent and… a writer.
This content is not shown.

Click on this block to display all our content, by accepting our cookies or review our cooky-policy below.
All activities are arranged by distance from Florence. Activity number two is 35 km away. Number ten is over 200 kilometres from the Tuscan capital. Please also have a look at the map below: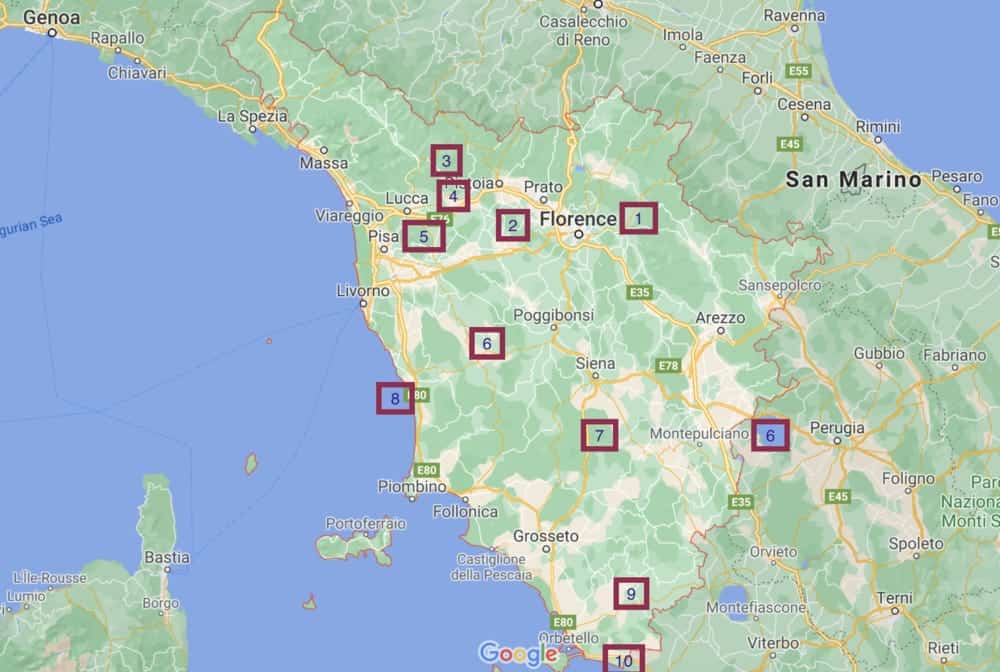 Florence: Fun-too museums
Collodi: Every child's birthday place
Lucca: Walhalla for junior cyclists
Pisa: No Tuscany, no leaning tower
Volterra + Montepulciano: Volturi places from Twillight
San Galgano: Gothic spookiness
Castagneto Carducci: Crazy horses
Saturnia: Senator's bathes in nature
Pescia Fiorentina: Gaudì under
1. Fun-too museums (Florence)
Florence is one big outdoor museum. But to select gems for children within that 'museum' is not even that easy. You can, of course, always go on the carrousel. It's situated very central, in Piazza della Repubblica and is one of those classic carrousels dating back more than 100 years.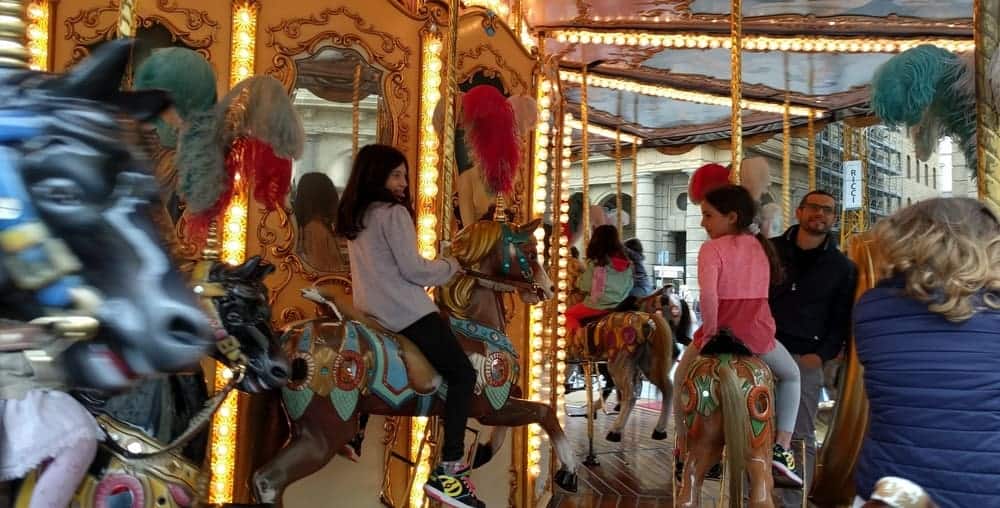 As for museums (one of those where you pay admission and you get to see something…), two are recommended:
Palazzo Vecchio. This palace has been the governmental center of Florence for seven centuries, that for a long time was capital of an independent country, the (grand) duchy of Tuscany. For children ages 4 to 10 they have a fun tour entitled 'Life at the Court' of De' Medici family (in English). The little ones are sure to feel like little princesses.

Another tour (ages 10 and up) goes through the fantastic building with its enormous giant hall (where the local government meets) and works by Michelangelo and Donatello, among others.
This content is not shown.

Click on this block to display all our content, by accepting our cookies or review our cooky-policy below.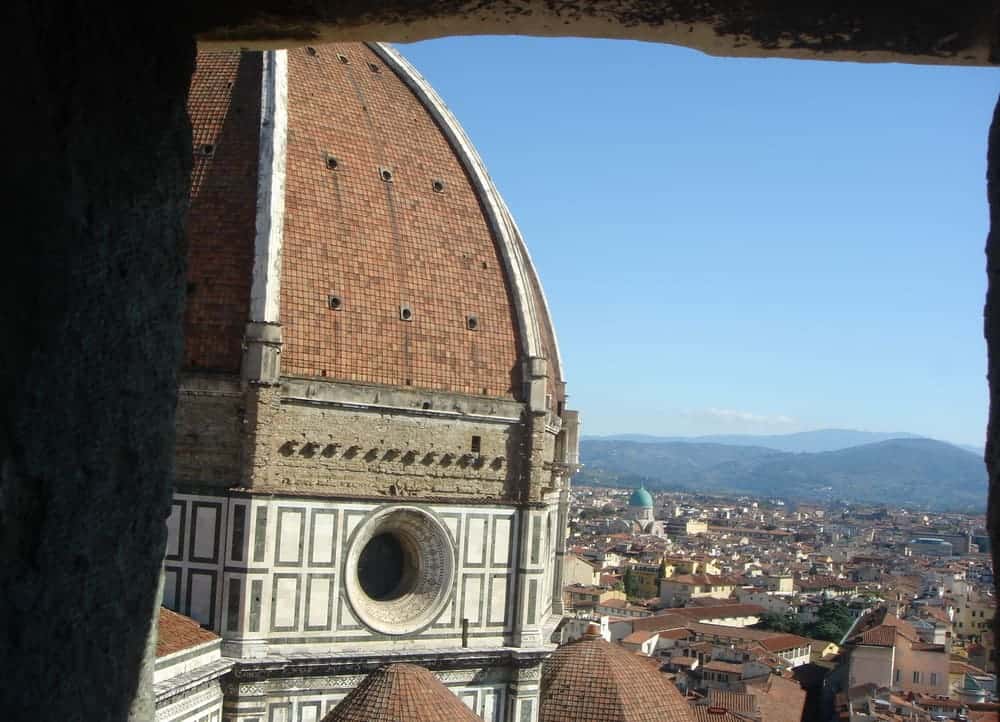 Museo Galileo is interesting for children interested in nature and science. Who does not know Galileo, the father of observational astronomy? The museum has special children's tours meant to stimulate one's interest in the history of science. Several demonstrations are performed along the way.
2. Being Leonardo (Vinci)
To see elaborate, often wooden models of Leonardo Da Vinci's designs you don't necessarily have to go to Vinci. Three Leonardo Da Vinci's museums exist in Rome, one is located in Florence, and you have them abroad as well.
Yet you must go to Vinci. This is where the memory of the world's greatest inventor is respectfully shaped. The Leonardo museum (since 1919!) consists not just of a series of models, but is an immersive experience, including a visit (if you like) to the house where Leonardo was born in (3 km from Vinci).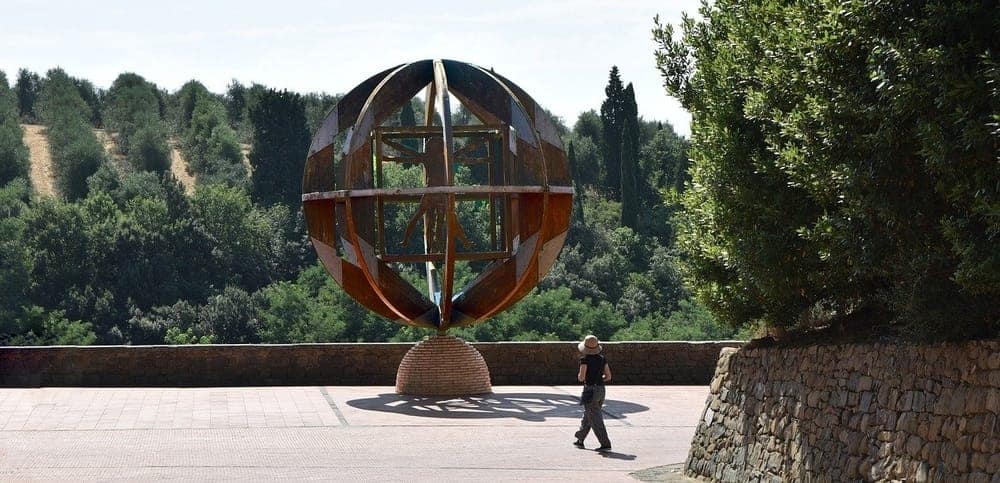 Also featured are his (few) oil paintings and still fewer fresco paintings. But let it be clear that you won't see a real Leonardo painting.
Also find out about modern innovations from the 'descendants' of Leonardo da Vinci.
This content is not shown.

Click on this block to display all our content, by accepting our cookies or review our cooky-policy below.
3. Every child's birthday place (Collodi)
The hamlet of Collodi (near Lucca) owes its fame to Pinocchio, and only because the author spent his childhood summers there. His parent's family came from Collodi. The name of the place is also the pseudonym of the author.
Since 1956 the village host the Park Pinocchio, very nice for children up to about 12 years old. All the main characters have a place there, including Geppo, the fairy with turquoise hair, the fox and the cat and an enormous whale.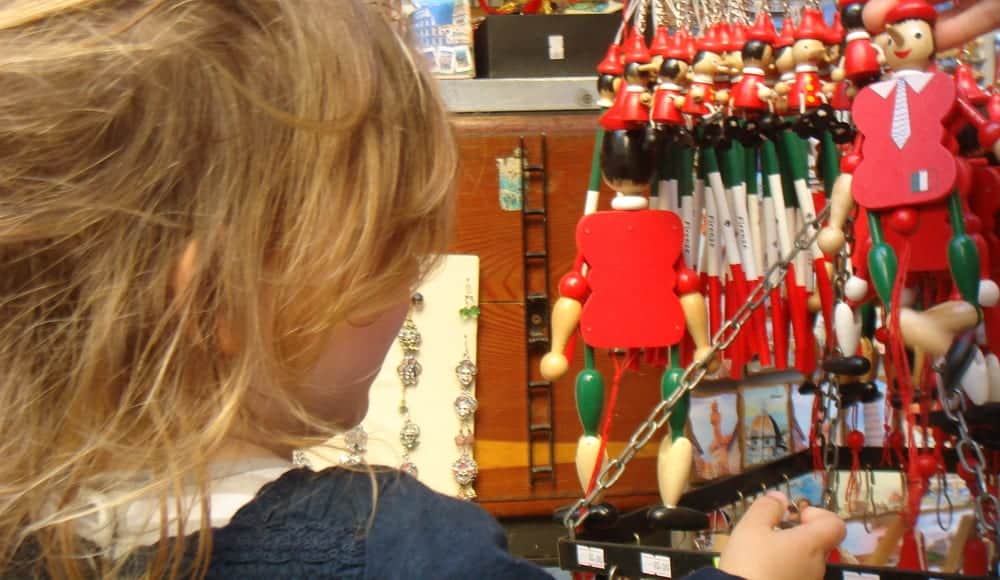 A small adventure park has been integrated into the park, including an rappel track (for children aged 5 and over). Right next to the park are the beautiful gardens of Villa Garzoni with balustraded terraces and a series of grand symmetrical staircases.
4. Walhalla for junior cyclists (Lucca)
Lucca is the best cycling city in Italy, especially for kids. That's easy to explain. The city is completely walled, so the area is shielded in a sense. The city inside the walls is one of those Italian jewels, with beautiful Romanesque churches, palazzi and pittoresque streets and squares. Car use is very low, and those driving there do so at low speeds.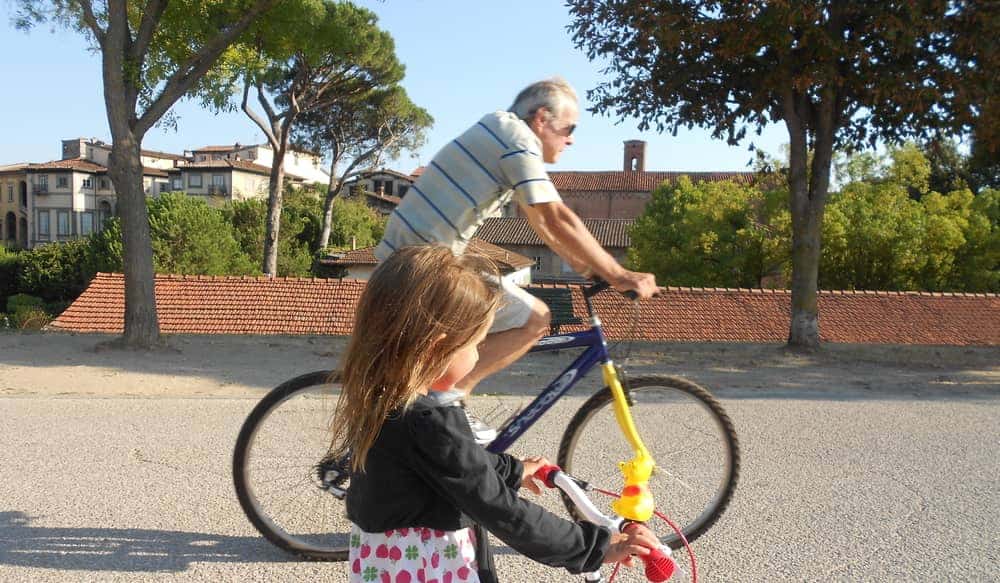 The wall, which is 2.6 miles long, is a cycling wahalla in itself. The distance is easy to cover. Meanwhile you look to the left or to the right, there is always something to see. On one side the medieval town, the other side the fortifications and the surrounding area which is fortunately undeveloped.
This content is not shown.

Click on this block to display all our content, by accepting our cookies or review our cooky-policy below.
Another thing: bike rental. In many Italian cities you have to search with a light for them, but in Lucca they are everywhere. The selection at most rentals is wide and includes children's bikes in different sizes as well as bikes with a trailer where the smallest (or the most tired) among us can sit.
5. No Tuscany, no leaning tower (Pisa)
Pisa is also such a thing. It is world famous because of thát tower and a lot of people come to visit this rather small city (90.000 inh.). That is thanks to the many cruise ship passengers who dock at the port of Livorno close by. Also the biggest international airport of Tuscany is almost around the corner. Children usually like the tower, although little ones of 4 or 5 years old don't care much. The so-called straightening of the tower, is a hit in any photo.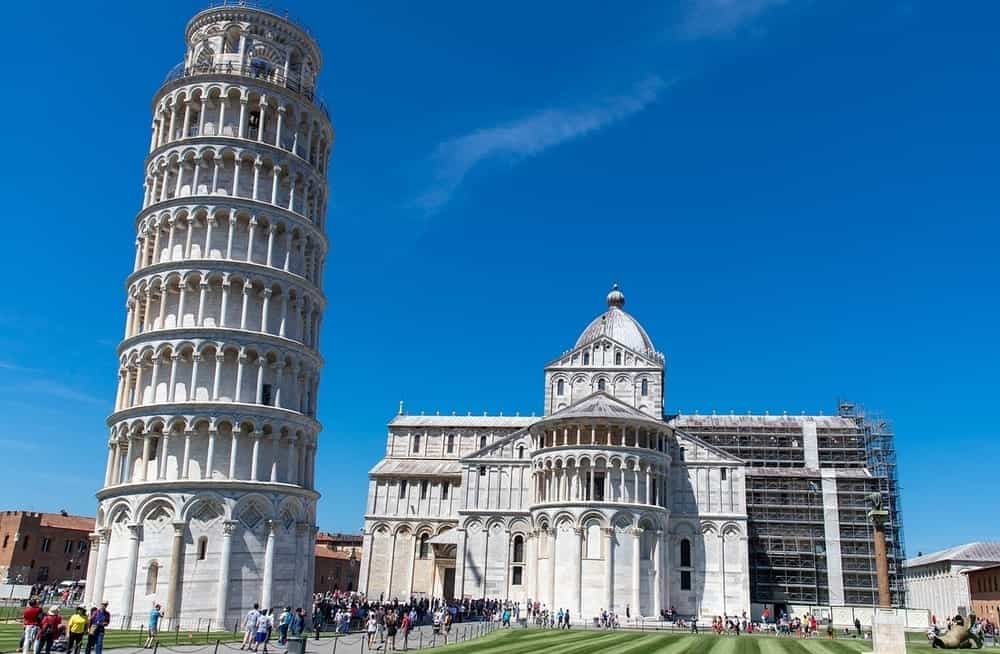 Yet Pisa has much more than the leaning tower. Right next door is the fantastically beautiful basilica (right on the photo). The former cemetery, the campo santo, is also worth a visit. Or walk even further, towards the train station and see the almost miniature church (Santa Maria delle Spina) on the Arno River. Visit of course also the birth house of Galileo Galilei.
His museum may be in Florence, but he is really a Pisan. Another famous fellow townsman: Fibonacci (1170-1250). Thanks to him, we do math in school as we are used doing now. The abacus: his invention you might say! A statue of him stands at the Campo Santo.
This content is not shown.

Click on this block to display all our content, by accepting our cookies or review our cooky-policy below.
6. Volturi places from Twillight (Volterra + Montepulciano)
80 km and 110 km south of Florence, respectively
Volturi will only ring a bell with fans of the Twillight Saga. For those who are not familiar: the story is about the girl Bella and Edward, member of a friendly vampire family. In part two of the series ('New Moon'), Bella and Edward visit Volterra. That is the territory of the Volturi, another, less peaceful, vampire family. In beautiful Volterra, which you really should see because of its Etruscan past, you can still see a marble lid, which in the book serves as the entrance to the palace of the Volturi.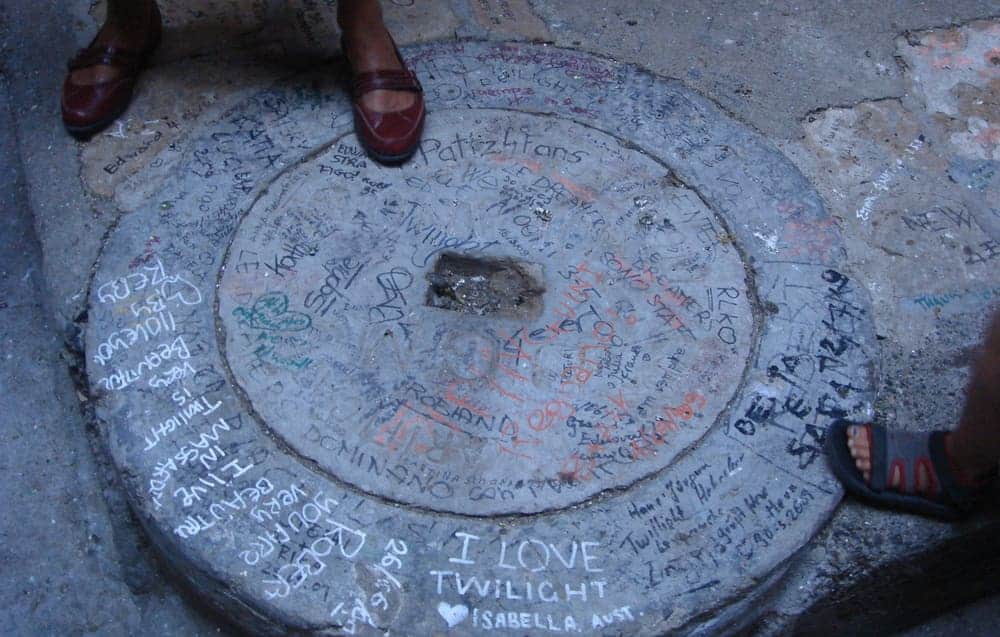 The book was filmed in 2009, not in Volterra, but in Montepulciano, a hundred kilometers away. You should also see this city because of its famous wine, but also here we have to sacrifice ourselves for the kids. On the square, near the fountain, an important scene was shot. Be sure to go there. But watch out for the sun! (fans insider)
7. Gothic spookiness (San Galgano)
The Gothic monastery named after the 'holy knight' Galgano is completely isolated on a stretch of lowland among the hills on the south side of Siena. It offers a fascinating view of a church with no furniture, no roof and no windows, as if a gang had smashed the place up yesterday. The gang thing is true, except that it happened in the year 1300. So visiting this site is like going back 700 years in time. Enough stories to keep children busy. They can also run and scream in a church with no one the wiser.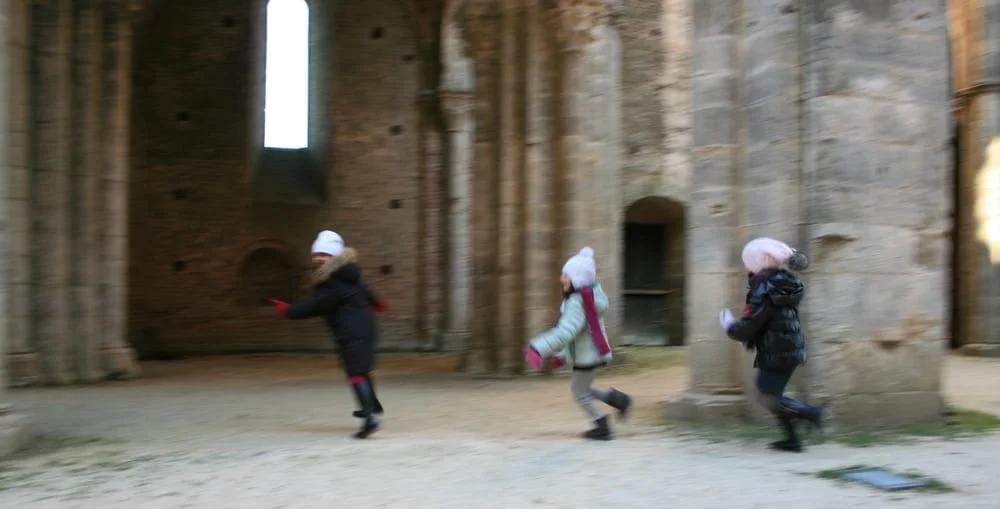 Galgano is said to have led a ruthless life in his early years, but later abandoned it in favor of a pious hermitage. According to a legend the knight would have converted when he saw Jesus and the twelve apostles at the place where later the monastery would appear.
Galgano interpreted this as a clear sign and he stuck his sword into the ground as a sign that he would give up his knighthood. The sword melted into the ground which closed around the weapon like a rock. The sword in the rock can still be seen nearby the monastery
This content is not shown.

Click on this block to display all our content, by accepting our cookies or review our cooky-policy below.
8. Crazy horses fun (Castagneto Carducci)
130 km southwest of Florence
'Cavallino matto' is one of the nicest amusement parks in Italy. It is not huge, although one of the largest in Tuscany. What makes it so pretty is its enchanting location. The park is situated within a pine forest and a few steps from the Tyrrhenian Sea.
The name of the park already says something about the almost family atmosphere of the park. The name means 'The Crazy Little Horse' and refers to the origin of the park, which in the 1960s was a riding school.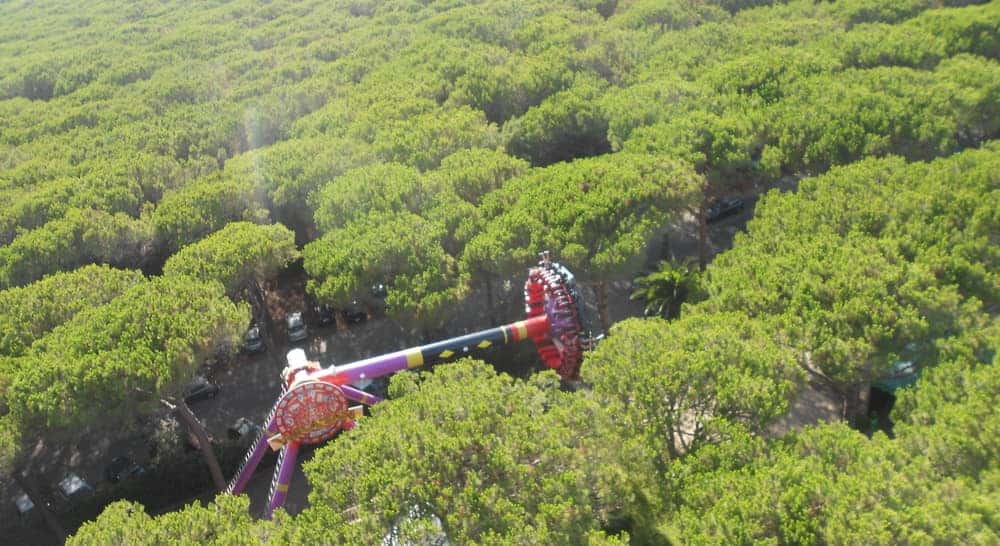 The park is great for the little ones and young children and -why not- adults too. The choice is between 26 attractions, such as Italy's only standing roller coaster and the canoe trip of fairy tales. The park lends itself well to a combination of theme park life and beach life at Marina di Castagneto Carducci, south of Livorno.
9. Senator's bathes in nature (Saturnia)
Tuscany is blessed with many natural springs, which rise up from the underground through a fault. That's fine: it's nice and warm, it's free and presumably healthy. The volcanic origins of the area mean that all sorts of minerals are dissolved in the water.
I often have an authentic, thermal experience in Saturnia, even though this place is not unknown anymore to tourists. It is best to come very early, even if the sunsets are beautiful. But then more people are gathered, and the water is less clean.
This content is not shown.

Click on this block to display all our content, by accepting our cookies or review our cooky-policy below.
Do bring your water shoes, or at least bring them for the children. It is rocky over there, there is gravel and it can be slippery.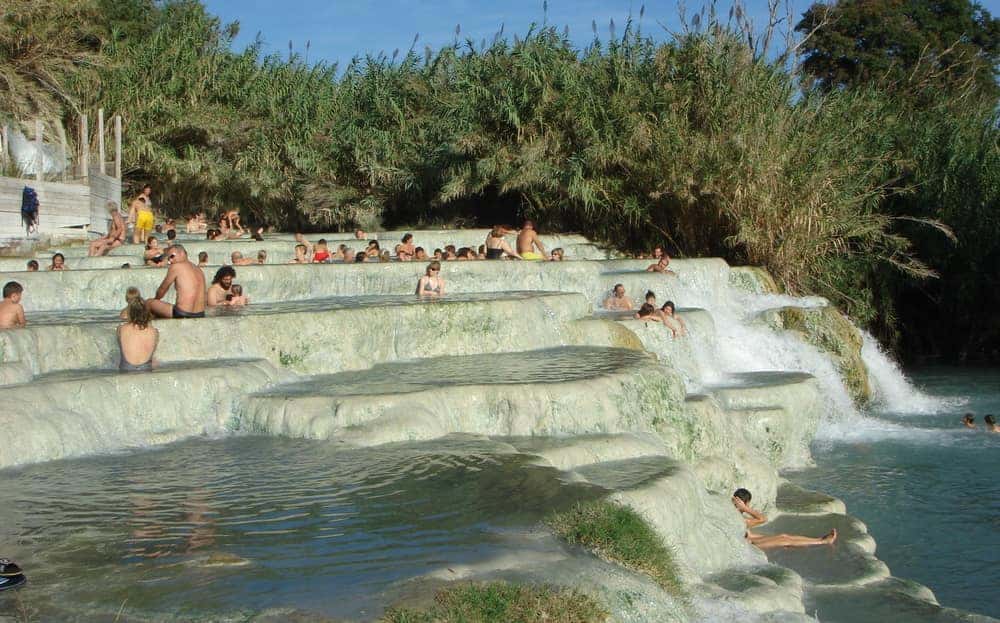 It all has a somewhat amateurish feel to it, which is sympathetic. You have a simple bar nearby with a terrace and changing facilities (which is something new, by the way).
Anyway, it looks spectacular. In the middle of the landscape a waterfall flows into a valley where nature has created natural basins over the centuries. You'll feel like a Roman senator. Children like it too, also because the water is really hot, especially at the top.
10. Gaudì under (Pescia Fiorentina)
This is how it reads on the website of the park of the tarocchi.
Visiting Spain, Niki de Saint Phalle discovers the work of Antoni Gaudí and is deeply affected — especially by Park Güell in Barcelona, which plants the seed for her eventual decision to create her own sculpture garden.
Niki de Saint Phalle (1930-2002) was a French-American artist. Since 1979 she lived in the place that has grown as we know it today. She worked for fifteen years on figures from the tarot card game, which she used to shape her sculpture park called 'Giardino dei Tarocchi'.

The many castings in polyester and plastic and thus the constant inhalation of toxic fumes played tricks on her, she got ill.

This content is not shown.

Click on this block to display all our content, by accepting our cookies or review our cooky-policy below.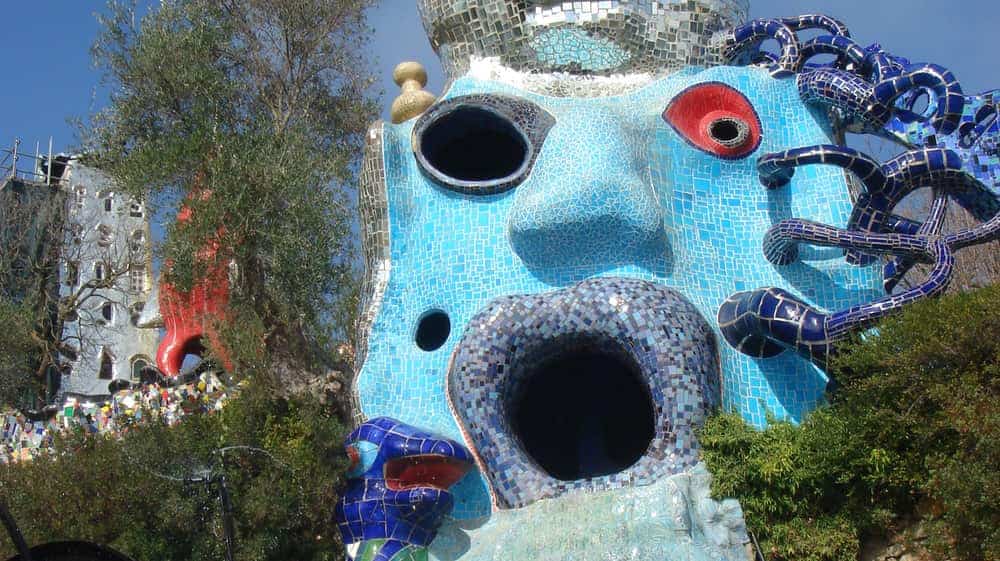 The park is not an amusement park, let that be clear, but a beautiful park, in a natural setting, filled with indeed Gaudi-like sculptures. It is a feast for the eyes, and especially fun for children too, because most of the statues, mostly also made of glass and mosaics, are a to be picked up and entered. They are mostly giant sculptures.
When you're there you're in the most southern part of Tuscany, the down under of the region. You are also near the Monte Argentario, a peninsula with beautiful beaches (for example, those of Feniglia. And sand and sea, that's ultimately what children also want.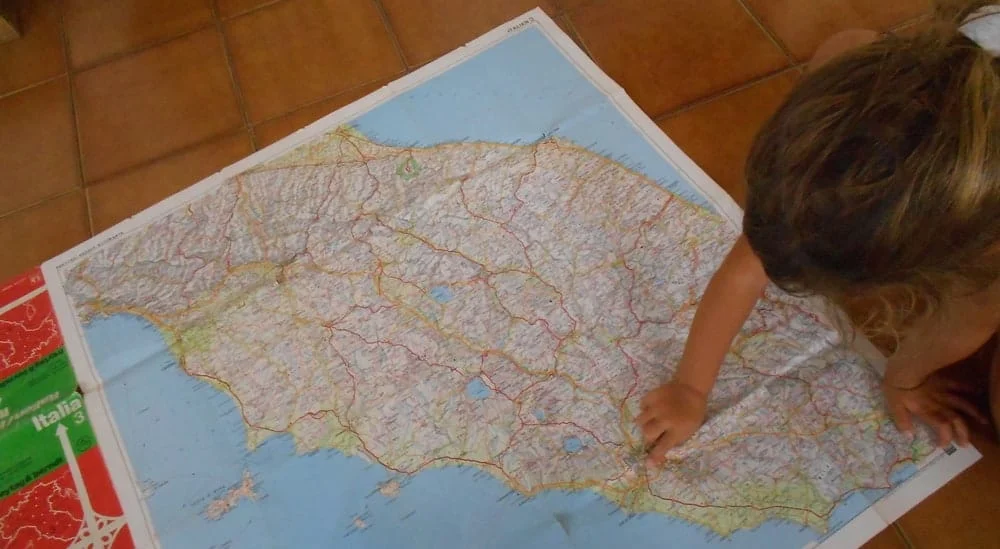 Practical information on 'Tuscany with kids'
Below we have compiled in Q and A form practical information about traveling and vacationing in Tuscany with kids.
This content is not shown.

Click on this block to display all our content, by accepting our cookies or review our cooky-policy below.
What airport do I fly into to go to Tuscany?
Tuscany has two international airports: Florence and Pisa. Most flights arrive at Pisa (80 km from Florence). Florence is well connected by fast rail to Milan and Rome.
Do I need a car in Tuscany?
Visiting larger cities in Tuscany you can easily do without a car. In almost all historical towns, the entrance of (rental) cars is prohibited. A car, on the other hand, is necessary if you visit the countryside.
Is it wise to take the train in Tuscany?
Tuscany has a dense network of rails, but most lines are slow. If time is no object, you can get around just fine by train. There are only two fast connections with hardly or no stops: 1. Florence as a stop on the line between Milan and Rome. 2. Pisa and Livorno on the line Rome-Genoa.
Does Tuscany have Unesco sites?
As many as 7 of them: the historical centers of Florence, Siena, San Gimignano and Pienza, the Leaning Tower of Pisa and its surroundings, the villas of the De' Medici family, the valley of the Orcia (Valle d'Orcia).