In autumn 2021, top films by the best Italian directors of that moment such as Paolo Sorrentino and the D'Innocenzo brothers were released. The presentation was during the Venice film festival 2021.
More than 20 Italian films were presented at the Venice Film Festival 2021 (September 1-11). That is the highest number in the history of this film festival, the oldest in the world. It is not so automatic that many Italian films are selected, even if the festival is held in Italy. The jury this year consisted of seven members (one is Italian) and was headed by Bong-Joon-ho.
This content is not shown.

Click on this block to display all our content, by accepting our cookies or review our cooky-policy below.
Sorrentino wins 'silver' at the Venice Film Festival 2021
The main programme (21 films) included five Italian films. In side programmes, the others were selected. We have picked the six best from the Venice Film Festival 2021. Plus the new Moretti, which had previously been presented at the Cannes Film Festival 2021 (no win).
1. Paolo Sorrentino – È stata la mano di Dio
Director: Paolo Sorrentino
Leading actor: Toni Servillo, Filippo Scotti
Why to watch: Sublime photography, Naples, checking out the newest Sorrentino
Distribution: Netflix (December 15, 2021)
Translated title: It was the hand of God
Awards: film: Silver Lion (Grand Jury Prize of the Venice Film Festival 2021) + actor Filippo Scotti: Marcello Mastroianni Award (Best young actor Prize of the Venice Film Festival 2021)
From Oscar-winning director and screenwriter Paolo Sorrentino (The Great Beauty, The Young Pope) is this story of a boy in the tumultuous Naples of the 1980s. Sorrentino returns to his hometown to tell his most personal story, a tale of destiny and family, sport and cinema, love and loss.
The title refers to Diego Maradonna's statement after his goal at the World Championship that was assigned, even though it was made by hand. The episode takes place in the time when Maradonna was playing at Naples.
Sorrentino is Italy's best director of the 21st century (measured by success abroad). We know him, of course, from the Oscar-winning film 'The Great Beauty'. Watch this magnificent movie at home:
RELATED CONTENT: Paolo Sorrentino ranks high on our top 24 best Italian films of all time (viewable on streaming services)
2. The D'Innocenzo Brothers – America Latina
Directors: Damiano and Fabio D'Innocenzo
Leading actors: Elio Germano, Astrid Casali
Why to watch: long-awaited work by thé Italian directors of the moment
Distribution: Netflix (November 2021)
Translated title: Latin America
The film is directed by the D'Innocenzo Brothers. Not many details about the plot of the film are known yet, but according to the directors themselves it will be "a love story, and like all love stories therefore a thriller". Elio Germano will play the lead role. Other actors include Astrid Casali in her first role.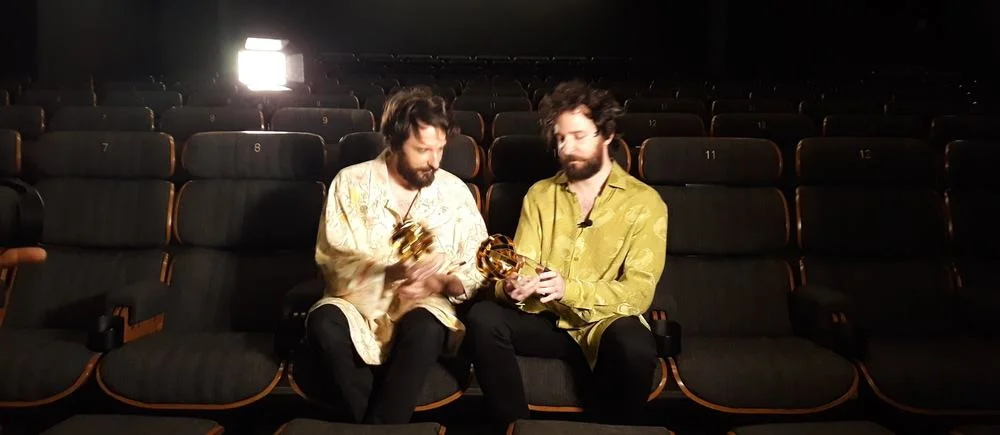 The D'Innocenzo brothers are on their third film. Their first two were greatly appreciated by the film critics. I myself think the number two ('Favolacce') is one of the best Italian films of the last years. You have to be in the mood for the grim and the dark of this film. It is not a laugh-out-loud film, so to speak.
This content is not shown.

Click on this block to display all our content, by accepting our cookies or review our cooky-policy below.
3. Gabriele Mainetti – Freaks out
Director: Gabriele Mainetti
Leading actors: Claudio Santamaria, Pietro Castellitto
Why to watch: Directors previous brilliant film, cast, special effects
Distribution: 01 Productions (October 28, 2021)
Streaming: unknown yet
Award: RB Casting Award (for the best young Italian actor, Venice Film Festival 2021) to Aurora Giovinazzo
The shooting of the second film by the young Roman director Mainetti began three years ago. I can still remember the set in the ghetto in Rome, see my photo (made in August 2018).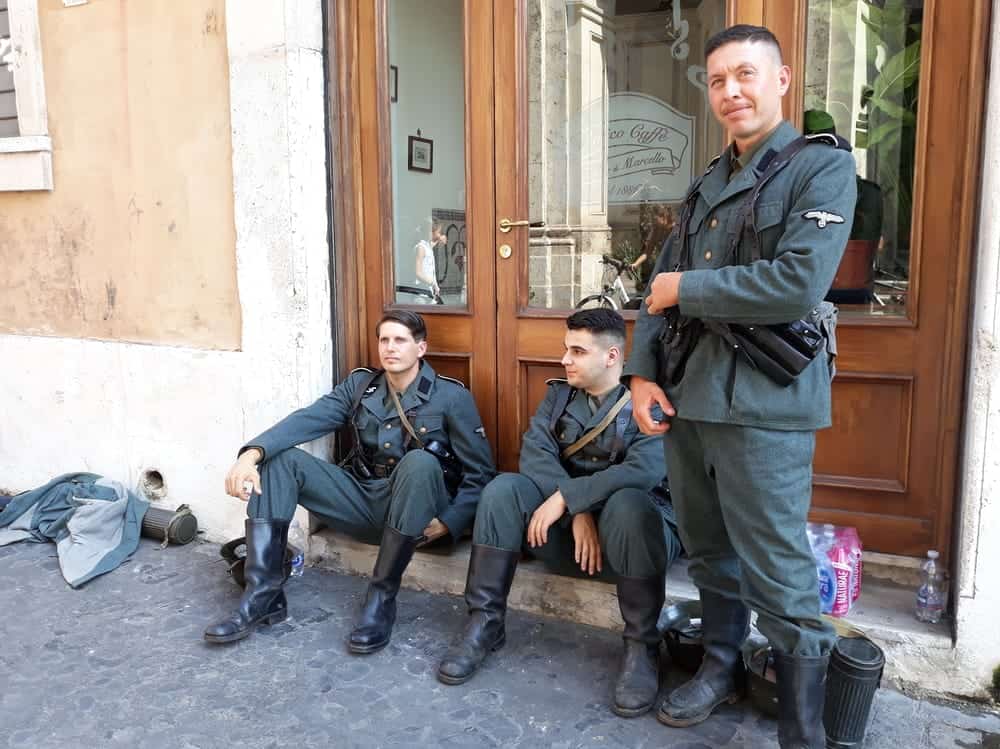 RELATED: On this very same street, Lady Gaga and Tom Cruise also filmed for their respective movies: 'House of Gucci' and 'Mission: Impossible 7'.
The fact that the film will only be released in 2021 has more to do with the long post-production of the film than with the pandemic. No expense has been spared for the film. It is already 10 times more expensive than Mainetti's first film, the highly successful 'They call me Jeeg Robot'.
The leading actor is again Claudio Santamaria, who plays one of the circus artists who tries to make the best of it during the German occupation of Rome (1943).
4. Mario Martone – Qui rido io
Director: Mario Martone
Leading actors: Toni Sevillo, Filippo Scotti (first role)
Why to watch: Good told drama, nice scenegraphs, leading actor
Distribution: 01 Productions (September 9, 2021).
Streaming: unknown yet
Translated title: Here I am laughing
This content is not shown.

Click on this block to display all our content, by accepting our cookies or review our cooky-policy below.
I am not telling the truth when I say that Mario Martone is a very famous director. Nevertheless, this (stage) director has produced some very nice films, such as his penultimate 'll sindaco del rione Sanità', based on a famous play and brought into the present day. Also quite good is Martone's 2014 film 'Il giovane favoloso'
His 16th feature is, as usual, not set in the present time, but in the Belle Époque of Naples. Actor and playwright Eduardo Scarpetta is at the height of his enormous success in the theatre. When he decides to stage a parody of a play by Gabriele D'Annunzio, Italy's most important poet, Scarpetta finds himself denounced for plagiarism.
The leading role in this beautiful film is once again played by Toni Sevillo, who we also meet in Sorrentino's new film (see above). The casting probably has to do with the fact that both directors and the actor are Neapolitans. In this case, it also helps because in the film, a (light) Neapolitan dialect is spoken.
5. Michelangelo Frammartino – Il buco
Director: Michelangelo Frammartino
Leading actors: All actors are speleologists by profession
Why to watch: Nature (the Pollino Mountains) having the leading role
Distribution: Lucky Red (date unknown)
Streaming: Not yet known
Translated title: The hole
Award: Special Jury Prize (Venice Film Festival 2021)
It is always striking, I feel, that some Italian directors who are praised by the critics make so few films. It may have something to do with the difficulty of finding producers (funding) in Italy. Take the 52-year-old Michelangelo Frammartino. His last work dates from 11 years ago and was loudly applauded. You can see the film on Amazon Prime (depending on your country of residence).
Frammartino's films are for connoisseurs. In his latest, third film ('Il buco'), it is all about a group of young speleologists visiting the Calabrian mountains and its unspoilt hinterland, immersing themselves in the subsoil of southern Italy that everyone is abandoning. They discovered one of the deepest caves in the world under the gaze of an old shepherd, the only witness.
The film is set in 1961. This, too, seems typically Italian: 4 of the 5 films I have presented here are set in the past.
6. Luca Rea – Django & Django
Director: Luca Rea
Leading actors (interviewees): Quentin Tarantino, Franco Nero
Why to watch: Great footage never seen before, the link between Italy and the USA (spaghetti westerns) revealed
Distribution: Lucky Red (releasing data: unknown)
Streaming: unknown
And then something completely different: a nice documentary by the TV Director Luca Rea that compares Quentin Tarantino and Sergio Corbucci. It is no coincidence that the title of Tarantino's 'Django Unchained' (2012) is based on the wonderful spaghetti western 'Django' (1966).
This content is not shown.

Click on this block to display all our content, by accepting our cookies or review our cooky-policy below.
This is the synopsis according to the organizers of the Venice Film Festival 2021:
"According to Quentin Tarantino, Sergio Corbucci was "the second best director of Italian westerns," as a character declares in his recent movie Once Upon a Time in Hollywood and as was confirmed by his choice to base Django Unchained on a film made by Corbucci in the 1960s. Previously unseen material from the time, testimonies and reconstructions used to present a unique period in cinema.
Corbucci's westerns as cinema of cruelty, but also as great inventiveness and as metaphor for all the ideas that were circulating in the Italy of the 1960s. With testimonies from Franco Nero (Corbucci's favorite actor), with unreleased Super8 films made on the sets of the Roman director's movies and with images from the years in which Italian cinema was able to speak to the whole world."
7. Nanni Moretti – Tre piani
Director: Nanni Moretti
Leading Actors: Margherita Buy, Riccardo Scamarcio
Why to watch: Moretti always have strong drama's,
Distribution: in (Italian) cinema since September 23, 2021
Streaming: unknown
Translated title: Three floors
The 68-year-old Nanni Moretti has also made few films during his career. But the reason can not be that this grand monsieur of Italian film has problems with financing them. He picks his films carefully, I think. Many of his feature films have won European awards, including four major prizes at Venice, Cannes and Berlin (the three main festivals).
His latest, the 13th, feature film has yet to win any awards. The drama is set, as usual, in a middle-class environment in Rome. An overnight accident reverses the destinies of the families living on three floors of an apartment building.
One of Moretti's best films, especially the first part set in Rome, is 'Caro Diario' (Dear Diary). You have to see it, I recommend. The film is usually available via streaming:
This content is not shown.

Click on this block to display all our content, by accepting our cookies or review our cooky-policy below.
Italian films at the Venice film festival 2021
Finally, an overview of all 21 Italian entries to the Venice Film Festival 2021:
Competition
È stata la mano di Dio – Paolo Sorrentino
America Latina – Damiano e Fabio D'Innocenzo
Freaks out – Gabriele Mainetti
Qui rido io – Mario Martone
Il buco – Michelangelo Frammartino

Out of competition
Il bambino nascosto – Roberto Andò
Ariaferma – Leonardo Di Costanzo
La scuola cattolica – Stefano Mordini
Non fiction
Viaggio nel crepuscolo – Augusto Contento
Deandré#deandré. storia di un impiegato – Roberta Lena
Django & django – Luca Rea
Ezio bosso. le cose che restano – Giorgio Verdelli

Orizzonti competition
Il paradiso del pavone – Laura Bispuri
Short films
Il turno – Chiara Marotta
Short films Out of competition
Preghiera della sera (diario di una passeggiata) – Giuseppe Piccioni
Extra
La ragazza ha volato – Wilma Labate
La macchina delle immagini di alfredo c. – Roland Sejko
Special screenings
La biennale di venezia: il cinema al tempo del covid di Andrea Segre
Le 7 giornate di bergamo di Simona Ventura
Biennale college cinema
La tana di Beatrice Baldacci
La santa piccola di Silvia Brunelli