If you want to watch Italian films at home or on your own device, you are bound to have Netflix. There is a fairly large selection of Italian movies on Netflix.
Watching Italian movies
Italy has been famous for its films since the invention of the cinema, especially since World War II. Names like Sophia Loren and Marcello Mastroianni are world-famous. But nowadays Italy is still a force to be reckoned with. Paolo Sorrentino, for example, is one of the most appreciated directors in the world.
But watching Italian films outside Italy is not that easy. Fortunately, there are (legal) streaming services. However, most streaming services such as Lulu, HBO, Showtime and Disney+ have few Italian offerings. Amazon Prime does have a reasonable Italian content, but most content does not come free within the subscription. That is why we are mainly dependent on Italian films on Netflix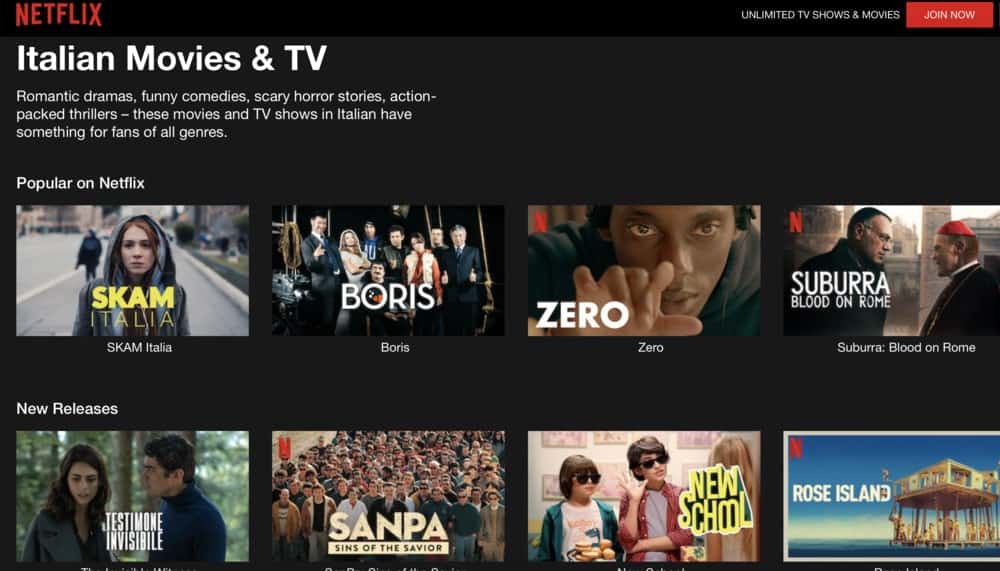 Best Italian movies on Netflix
In my top 10 italian movies on Netflix of the moment (summer 2021) I made a mix of films of the last twenty years. Simply because Netflix has almost no golden oldies in its programme. My selection is therefore a blend of newly released films, slightly older ones, comedy, drama, a TV series, but all chosen films are quality movies. The titles can be watched from within the US and UK, among others. The films have been adapted for audiences who do not understand Italian. In Europe and especially in Italy, the choice of Italian movies on Netflix is bigger.
Here are my top 10 best Italian movies on Netflix, ordered by the year of release:
Malèna 2000
The Last Kiss 2001
The Great Beauty 2013
They Call Me Jeeg 2015
Where am I going? 2016
Perfect Strangers 2016
On My Skin 2018
Il Traditore 2019
Rose Island 2020
Suburra: Blood on Rome 2017-2020
1. Malèna
Director: Giuseppe Tornatore
Leading Actor: Monica Bellucci
Year: 2000
Genre: Drama
Why to watch: strong storyline, stunning Monica Bellucci, locations in Sicily
The 65-year-old Giuseppe Tornatore is a director with few films to his name, but the few he does make (12) are worth a look. 'Nuovo Cinema Paradiso' won him the Oscar for best foreign film in 1988.
In this film twelve-year-old Renato is enamoured with Malèna. But when jealous townsfolk begin spreading rumours about her, Renato must separate fact from fiction. The absolute leading role is played by sensual Monica Bellucci, who launched her international career with this film.
2. The Last Kiss
Director: Gabriele Muccino
Leading Actors: Stefano Accorsi, Giovanna Mezzogiorno
Year: 2001
Genre: drama, comedy
Title in Italian: L'ultimo bacio
Why to watch: dynamic storyline, breakthrough of director and new generation of actors
"As Carlo prepares for fatherhood, he grapples with settling down. And he's in good company: His close friends also are struggling with love and life."
So reads the effective, but also vague two-lines synopsis from Netflix. The film is indeed a coming-of-middle-age story, very cleverly and attractively filmed by the then young director Gabriele Muccino. Muccino would later make two successful American films with Will Smith.
Muccino's style is dynamic with the camera close to the leading actors, always adorned with beautiful locations and people. In 2006, American Tony Goldwyn made a remake of the film under the same English title.
This film was also the breakthrough for, among others, Pierfrancesco Favino, one of the best Italian actors of the moment. His work includes small roles in American films like 'Angels and Demons' and 'Night at the Museum'.
3. The Great Beauty
Director: Paolo Sorrentino
Leading Actor: Toni Servillo
Year: 2013
Genre: drama
Italian title: La Grande Bellezza
Why to watch: Rome at its very best, fabulous scenography, Fellinian exuberance
The Great Beauty is a great film. I am not alone in my opinion. It won the Oscar for best foreign film. The Guardian put it in the top 20 best films of the 21st century. This English newspaper writes:
The Young Pope director Paolo Sorrentino crafted this swooningly beautiful love letter to Rome – "la grande bellezza" – in its decadent, jaded glory. Toni Servillo, Sorrentino's regular onscreen foil, plays journalist Jep Gambardella, a bon viveur beginning to sense the dying of his personal light, and hunting out meaning and substance in the world around him
The music, a mix of sacred and profane rhythms, is also fantastic. Strangely enough, perhaps, the film is less appreciated within Italy. The movie would be based too much on cliches and Fellini.
4. They Call Me Jeeg
Director: Gabriele Mainetti
Leading Actor: Claudio Santamaria, Luca Marinelli
Year: 2015
Genre: sci-fi, comic
Italian title: Lo chiamavono Jeeg Robot
Why to watch: original script, acting, Rome locations

This low-cost production (€1.7 million) is the debut of Mainetti (who has made only one other film since). The film is a cheerful break with the usual themes of most films. The leading actor (who we also know from 'The Last Kiss') is excellent. Like many Italian films, this feature was shot in Rome (and in the studio).
The title of the film is a reference to the so called mecha anime series 'Jeeg Robot of Steel' by Gō Nagai, as one of the main characters believes that Hiroshi Shiba, the hero of the series, exists in the real world and identifies him with the leading character.
5. Where am I going?
Director: Gennaro Nunziante
Leading Actor: Checco Zalone
Year: 2016
Genre: comedy
Italian title: Quo Vado
Why to watch: funny on cultural differences
This film is the most successful film of all time in Italy (not corrected for inflation). Is this film also the best? No, but it is one of the funniest Italian comedies of the 21st century. The movie makes fun showing the differences between Latin and 'western' characters. Obviously you should not be bothered by too much political correctness.
6. Perfect Strangers
Director: Paolo Genovese
Leading Actor: Marco Giallini, Anna Foglietta
Year: 2016
Genre: drama, comedy
Italian title: Perfetti Sconosciuti
Why to watch: sparkling one location film, top script 
'Perfect strangers' has a special record to its name, and that says a lot about its universal value. The film has the most remakes in the history of cinema, according to the Guinness Book of Records. The film cleverly taps into the then (2016) general spread of smart phone use. This is how Netflix presents the film:
A dinner party unravels when a group of friends agrees to leave their phones on the table, airing the contents of their correspondences – and secrets.
7. On My Skin
Director: Alessio Cremonini
Leading Actor: Alessandro Borghi
Year: 2018
Genre: drama
Italian title: Sulla mia pelle
Why to watch: into the skin of a victim of violence, excellent acting
The film is based on a in Italy well-known true story of police violence. Arrested in Rome for a drug-related offense, Stefano Cucchi endures a harrowing week in custody that changes his family forever. Cucchi is played by Alessandro Borghi, who was widely acclaimed for this role. As one critic stated:
Borghi stitches Cucchi into his skin. He tattoos Cucchi on himself. He cuts his hair as he wore it. He makes us see on his body, as we have rarely seen in cinema, the irresolvable mystery of living and dying.
This is one of the first Italian productions that was (is) exclusively distributed by Netflix.
8. Il Traditore
Director: Marco Bellocchio
Leading Actor: Pierfrancesco Favino
Year: 2018
Genre: biopic, crime
Why to watch: genuine mafia story, the actor Favino
The film is based on the life of mafioso Tommaso Buscetta, who is portrayed in the film by Pierfrancesco Favino. This actor proves again to be one of Italy's best.
Buscetta was the first mafioso of significance to cooperate with the judiciary (1980s) that led to the mafia being virtually defeated (1990s).
I find the film, which is also known by its English title 'The Traitor', quite deja vu. That may have something to do with the fact that we in Italy are familiar with Buscetta's life and the long court cases it led to.
Anyway, the film is good as a proper mafia film without too much glamour.
9. Rose Island
Director: Sydney Sibilia
Leading Actor: Elio Germano
Year: 2020
Genre: comedy
Italian title: L'incredibile storia dell'Isola delle Rose
Why to watch: nice summer hit, Elio Germano
One of the top Italian actors I have yet to mention in this list of Italian movies on Netflix is Elio Germano. He stars in this light-hearted film (although he's still beter in the great movie 'Favolacce' (not on Netflix)).
This movie tells the real story of the Rose Island, an artificial platform created off the coast of Rimini in the 1960s. This vintage beach film is nice for a change from the sometimes ponderous Italian drama
10. Suburra: Blood on Rome
Director:  Stefano Sollima
Leading Actor: Alessandro Borghi
Year: 2017-2020 (3 series so far)
Genre: crime
Italian title: Suburra - La Serie
Why to watch: strong script and acting performance
Foreign critics rate this crime series as top notch. One named it a "brash and brutal Italian crime thriller", another "Netflix's Italian answer to Narcos". This is also understandable when you make a mix involving Rome, Italian politics, the Vatican and the mafia.
The series has a strong script (two renowned writers are behind it), good acting and, of course, the locations in Rome and its surroundings always contribute to a nice result.
Even more Italian Movies on Netflix
What I think are also rather good Italian movies on Netflix are the following:
Il Divo (2008, biopic, Paolo Sorrentino)
Benvenuti al sud (2010, comedy, Luca Miniero)
Loose Cannons (2010, drama, Ferzan Ozpetek)
Call Me by Your Name (2017, drama, Luca Guadagnino)
Martin Eden (2019, drama, Pietro Marcello)
Are there any Italian movies on Netflix?
There are dozens of Italian films on Netflix outside of Italy, most with subtitles.
What is the number 1 Italian movie on Netflix?
The best Italian film featured on Netflix is 'The Great Beauty'. This can be objectively determined by, among other things, film awards and reviews from critics.
What are the best Italian movies on Netflix?
Malèna (2000), The Last Kiss (2001), The Great Beauty (2013), They Call Me Jeeg (2015), Where am I going (2016), Perfect Strangers (2016), On My Skin (2018), Il Traditore (2019), Rose Island (2020) and Suburra: Blood on Rome (2017-2020).