Horacio Pagani started a supercar out of nowhere over twenty years ago, actually the first hypercar in history. The super-powered and super-light car is considered one of the most expensive in the world.
Pagani Cars and Pagani Art
We interviewed the CEO of Pagani Automobili and learned of his plans for an electric Pagani and the foundation of Pagani Arte, composite design for the non-car industry.
Horacio Pagani in short
When I think of Horacio, I think of Horace, the famous Roman poet, known for "much is wanting to those who covet much". That saying actually touches the Horace in question, Horacio Pagani (b. 1955). The Argentine fell under the spell of Ferrari, Lamborghini at a young age. His dream was to go to Modena, the capital of the supercar.
This content is not shown.

Click on this block to display all our content, by accepting our cookies or review our cooky-policy below.
In the end he realized his dream. At the age of 44, Horacio Pagani presented the Pagani Zonda, the first supercar built under his own name. The press christened the car as the "first hypercar" in history.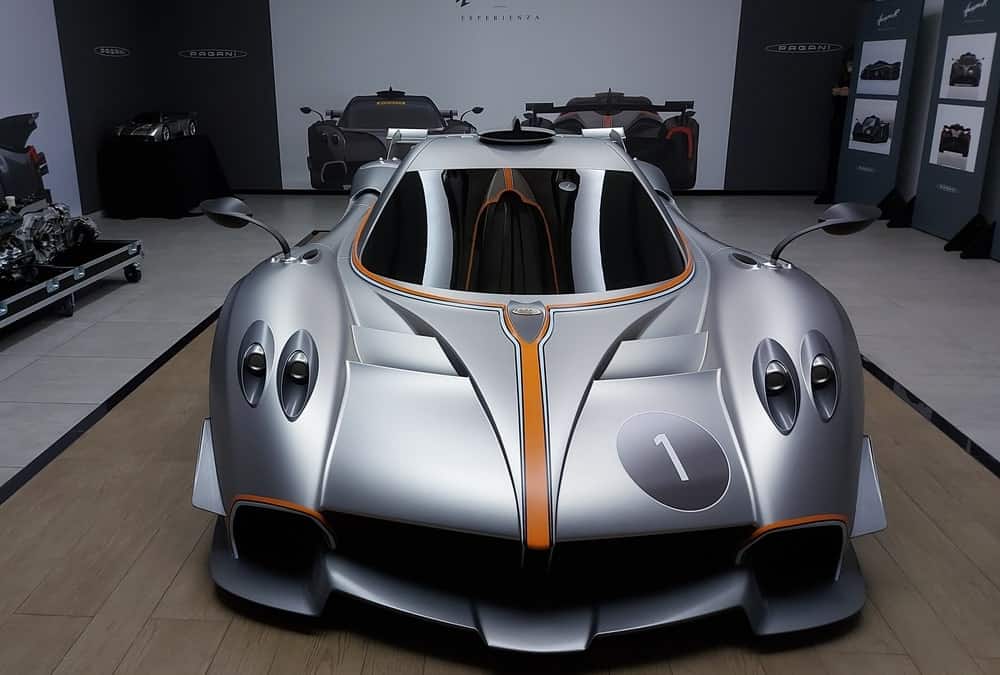 Horacio Pagani is an approachable man who, at first glance, has both feet on the ground. I watch him as he is approached by three fans in the Pagani Museum (which is integrated into the factory). They call Horacio Pagani their hero. Pagani allows himself to be photographed with them, but then stands up almost shyly saying that he doesn't believe in heroes.
Pagani, of course, is not entirely modest. After all, the most expensive cars in the world bear his name.
Most interesting quotes from the interview below
There is no dealer and no customer asking for an electric Pagani

Still, we want to be on the market with the first electric car in 2025

14 million euros for a Zonda is a ridiculous price. For the same money you have a whole apartment building

In September we will establish Pagani Arte in Milan for design of aircraft, among other things.
Read more about Italian icons of design and highly qualified artifacts here.
This content is not shown.

Click on this block to display all our content, by accepting our cookies or review our cooky-policy below.
Straight to the point: will Pagani go electric?
"No customer and no dealer have ever asked us to make a hybrid car or an electric car. But developments are moving fast, so it's quite possible that the demand will come. That's why we started a project that should lead to the all-electric car. I have set up a team, that is very involved in this project as I am. Hopefully we can present the first model in 2025. But we have time.
Our latest fuel engine (introduced in 2019, ed) will last at least until 2027. The world is not yet ready for electric. Ninety percent of energy comes from polluting sources, such as coal and oil. Driving electrically on the basis of energy generated from oil and coal makes little sense. I think we will still have fuel engines for the next 15 years. It also depends on regulations and laws."
What will the electric supercar looks like?
"A customer now gets excited about a supercar because of the sound of the engine, the cylinders, the sound of the exhaust, the gearbox and the shape, the design. The only thing that could theoretically remain with an electric car is the shape. Exactly what that design will look like, I don't know yet. Whether the e-car will be bigger or smaller is not the issue. The issue is the search for beauty. Our electric car project is very difficult because everything is different. But I think this challenge is an extra push to let the creativity work and create something that will excite a customer for a long time."
This content is not shown.

Click on this block to display all our content, by accepting our cookies or review our cooky-policy below.
In the meantime, are you planning to launch a hybrid car?
"We would love to go on forever without the hybrid, but everything depends on regulations around environment. For example, if they all agree that you can't enter town with your car if it's not an electric one, then you're forced to go hybrid. Right now hybrid super cars have a range of 15 to 20 km."
Where did your passion for supercars come from?
"As a child, I was fortunate to have a passion for art and at the same I had a curiosity about scientific and technical subjects. I found out that both directions could come together exactly in the Gran Turismo car, as the sports car was called in the 1960s. When I was a teenager I discovered that Leonardo da Vinci once had said that art and science are two disciplines that go hand in hand.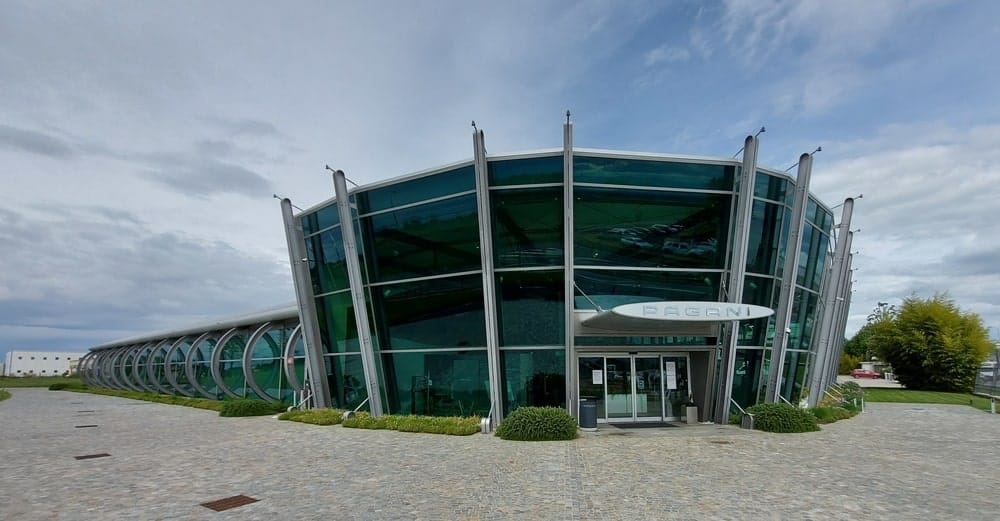 It was an eye opener for me. I was fascinated by Maserati, Ferrari, Lamborghini, all those car brands from around Modena that I came into contact when I read a Argentine car magazine. You can imagine how it is living on the other side of the world, in the middle of La Pampa without the means of communication of today and seeing these cars in black and white photos!"
This content is not shown.

Click on this block to display all our content, by accepting our cookies or review our cooky-policy below.
Why is Modena, not Stuttgart, not Detroit the capital of the supercar?
"Historians say that the Maserati brothers started in Modena making machine tools, but also lathes and so on, because the Po Valley is a large agricultural area. This region of Modena also had a strong tradition of building carriages, the first horse-drawn carriage, and later cars. Maserati started building carriages and cars, thirty years before Ferrari.
Car producers then were looking for a place where people had good hand skills. Here the manual skills were great. I worked for Lamborghini for almost 10 years and worked with so many people who came from the countryside, former farmers, or their children."
Can you imagine one day moving the company abroad?
"In 2003 I received a very interesting offer to re-found Pagani in Zurich. I didn't do it, and I'm not 100% sure if I did the right thing. Zurich is a very interesting environment with a high technical level. It is also close to Germany, an important market. Of course I would have had to leave Italy and lose the folklore of the Motor Valley.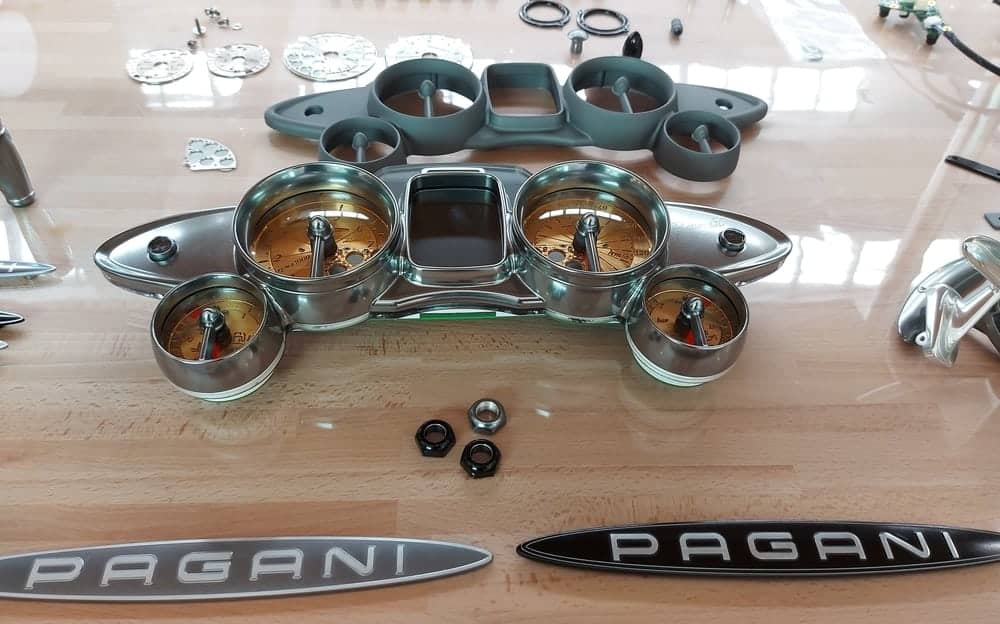 You have to know that it was not easy to make cars in the Motor Valley back then. We had to find all our suppliers ourselves, even train some of them. We didn't get to work with Ferrari's, Maserati's providers. That was partly due to the drama of Bugatti's re-establishment in Campogalliano, near Modena, which had left debts with most suppliers in 1995.
This content is not shown.

Click on this block to display all our content, by accepting our cookies or review our cooky-policy below.
Supercar manufacturers don't work well together?
In Germany, Porsche and Mercedes work together when necessary. Here the super cars companies are like cats and dogs.
We at Pagani have a good relationship with everyone in the industry. Fortunately, there is a new generation of managers who are in for agreement. Twelve manufacturers of motorcars and superbikes, including us, Ferrari and Lamborghini, are united in an association of the Motor Valley and have created a special Motor University. We all agree that investment in training is needed. But it can be even better. In addition to a bit more humility, cooperation is needed.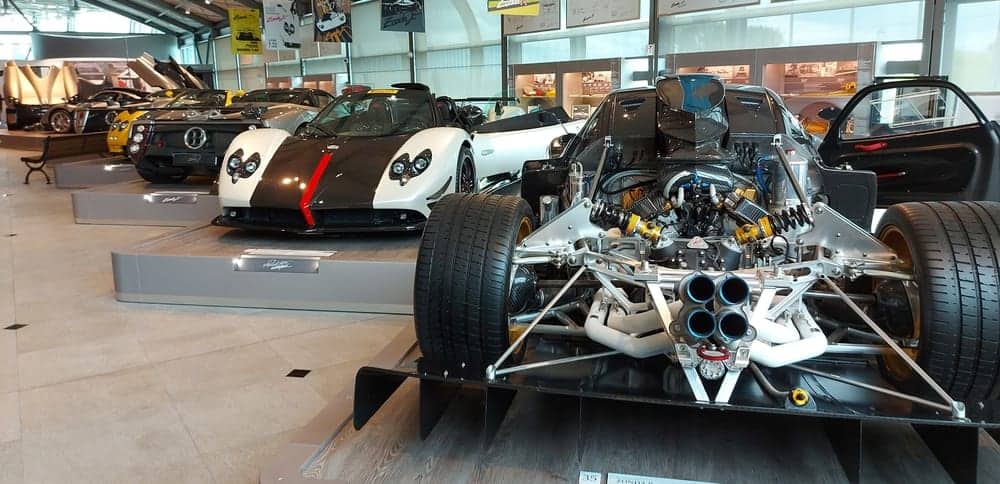 Take the fuel tank filler neck. Nobody sees that one, it's a silly thing, but it costs a million euros to design it. It would be much better if Lamborghini, Ferrari, Maserati and we developed such a thing together and then split the cost by four. And so are more of those 'stupid' components, like the wheel's valve."
The engine you don't make yourself, but you get it from a supplier.
"No, no, it doesn't come from a supplier, it comes from the best supplier. (Pagani laughs) We are very honored and proud on this.
(Pagani builds AMG engines into its cars. AMG is a high performance manufacturer of high cylinder capacity engines. Since 1999, AMG has been part of Mercedes-Benz. Horacio Pagani says to me that he doesn't get hot or cold about engines per se. He is primarily concerned with design).
This content is not shown.

Click on this block to display all our content, by accepting our cookies or review our cooky-policy below.
Will you stay in Modena after all?
"The car company is consolidated here, and here we will stay. But what we are going to do is move our other business unit, Pagani Arte, to Milan. Pagani Arte is the division that makes things that are not cars. We have an agreement with Airbus to design the interiors of the planes, we did a gulfstream for a head of state, we are creating a furniture line. In September 2021 we will move to the Brera neighborhood in Milan. It's still a small unit, but it will definitely grow."
A Pagani is high priced. Is there a sufficient market?
"The base price of our supercar, of which some 40 are made per series, averages 3.5 million euros (4.2 million US dollar, ed.). The very limited edition cars, such as the 2020 Huayra Tricolore of which there are only three pieces, are priced at 5.5 million euros.
With or without sales tax?
On top of that come the taxes. Not only VAT, but also, for example, import duties for foreign customers.
(We just did the math: in Italy this Tricolore roadster costs 6.7 million euros. But let's face it: they are not for sale, because they are built on demand.)
What is the most expensive Pagani ever?
The Zonda HP Barchetta was sold for 14 million euros a few years ago. For the same money, you have a complete 10-story condo for it. It makes no sense. It's absurd.
You yourself say it's absurd. But you provide the prices!
The Barchetta was sold as an exception by auction. Anyway we stick to our strategy of staying exclusive. In over twenty years we have built about 450 cars. We make about 30 per series, and also have limited editions of 1, 3 or 5 pieces. Anyway, all the cars are personalized. However, in recent decades there have been years when we could sell 100 or 150 cars without any problems. But we don't let euphoria grab us, or greed for money. Pagani is a family business and enough money comes out of it to invest 20 percent every year in development and research."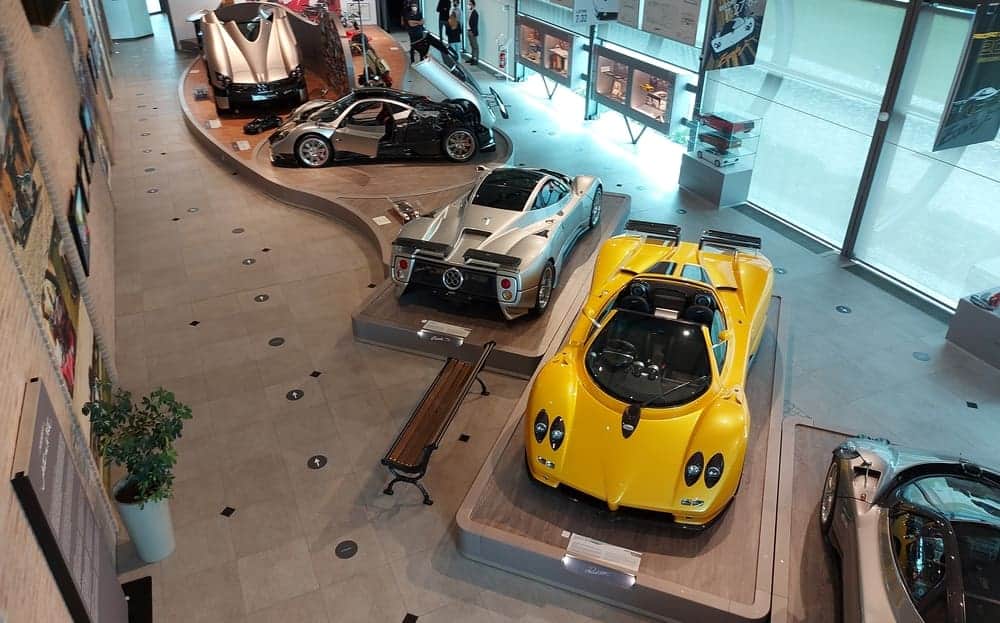 Facts about Pagani
Pagani Automobili S.p.A ('Spa' means: public limited company) employs 160 people. The company has been in existence since 1999, and has produced some 450 cars. Horacio Pagani was one of the first automakers, while still working at Lamborghini, to experiment with composite materials. Horacio Pagani is seen as one of the 'Lords of carbon,' as shown in a documentary.
This content is not shown.

Click on this block to display all our content, by accepting our cookies or review our cooky-policy below.
Visiting Pagani
The Pagani Museum, including a store with Pagani merchandise, can be visited. It is open daily except Sunday (18 euro entrance fee). A tour of museum and factory costs 55 euros.
Address: Via dell'Industria, 26 in San Cesario sul Panaro. This is 12 kilometers from Modena and 23 kilometers from the Ferrari Museum
How much does a Pagani car cost?
For 2.6 million euros the latest Pagani (Huayra R) is yours. Usually, the base price averages 3.5 million euros (4.2 million US dollar). Without sales tax (22% in Italy). Still more limited editions are priced at 5.5 million euros.
How many Pagani cars are in the world?
Pagani says it has delivered about 450 cars in more than twenty years. Pagani Automobili employs 160 people. The company produces super cars since 1999.
Why are Pagani cars so special?
Horacio Pagani was one of the first automakers to experiment with composite materials. Zonda, the first Pagani, was coined 'hyper car', because of its total futuristic design.
What is the most expensive Pagani in history
The Zonda HP Barchetta was sold in 2018 for 14 million euros (17 million US dollar).