A 'Mafia Capitale' hot shot has opened an eatery in Rome serving burgers with names derived from the Suburra and Gomorrah TV series. We have visited him.
Underworld and gastronomy, that's not a rare combination in Italy. One of the minds of Rome's crime network, infamous known as 'Mafia Capitale', Salvatore Buzzi, who has not yet been legally sentenced to twelve years and ten months in prison, has started a new life as a restaurateur.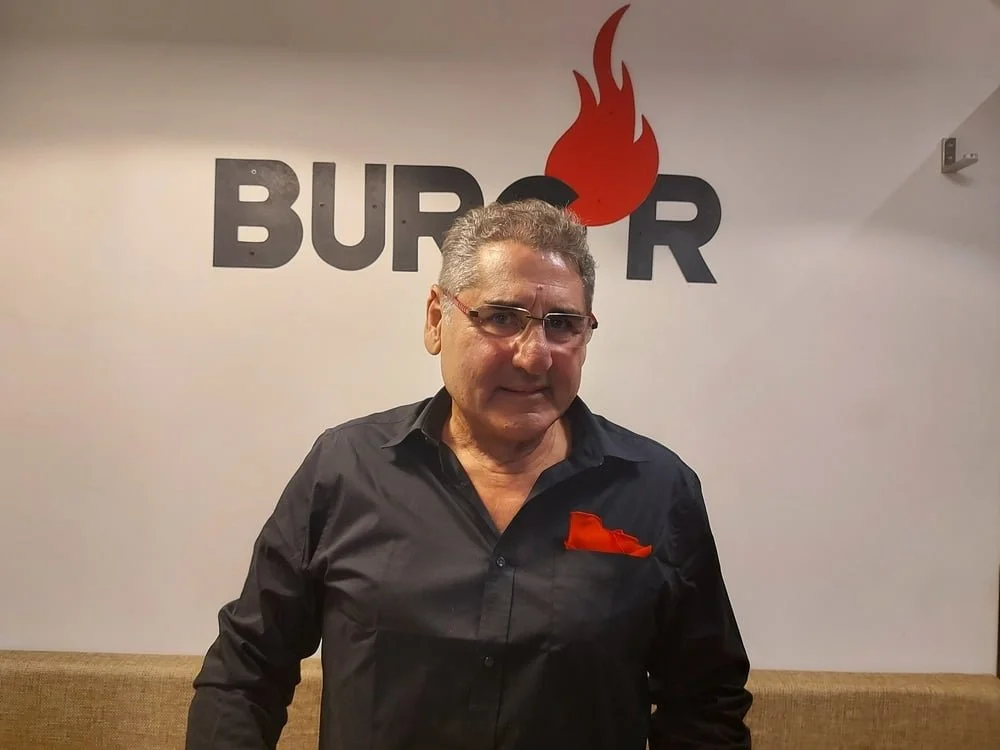 In October 2021, Buzzi has opened a restaurant in the Italian capital with dishes, whose names refer to novels and TV series with connection to the Roman underworld, of which he himself is accused of being part of.
This content is not shown.

Click on this block to display all our content, by accepting our cookies or review our cooky-policy below.
Buzzi's Burg'r
'Buzzi's Burg'r' is the name of the restaurant. It is located on the busy Via di Tor Vergata in a southern suburb of Rome. It took us almost 90 minutes to reach the place from the center of Rome. Tor Vergata is seat of one of the three Rome universities and also of an academic hospital. Always useful to have doctors as customers should blood flow.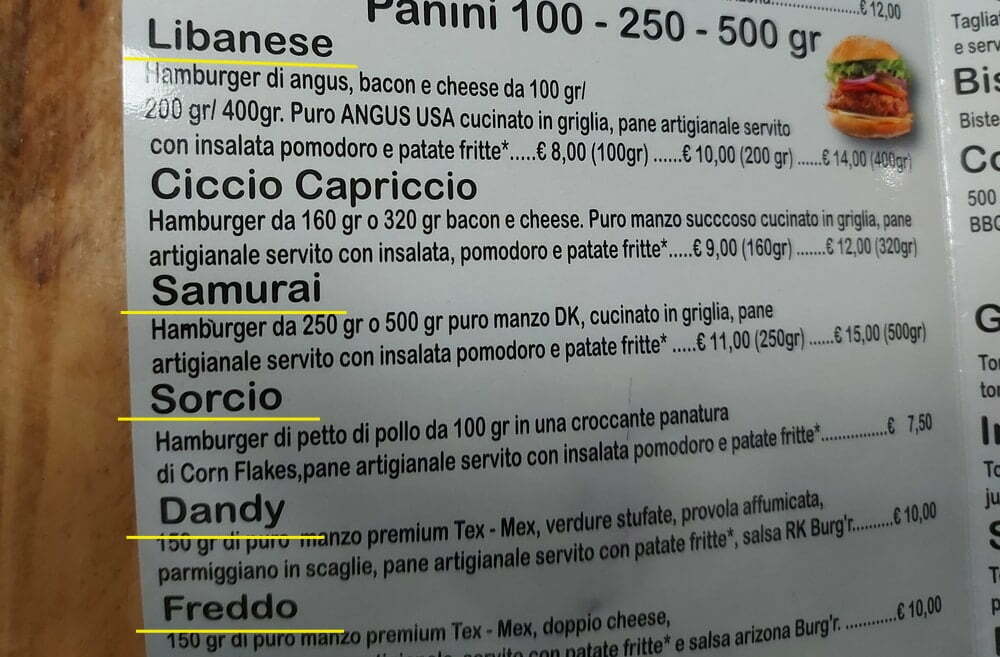 Blood is not likely to flow, the restaurant looks too slick for that. Buzzi himself, dressed in black and with a red handkerchief in his shirt pocket, acts like a gentleman. He shows me unapologetically a part of the opera Cavalleria rusticana on his cell phone. Opera enthusiast, you have won me over…
Names of burgers
Blood will flow at most when you open the menu. Buzzi's place serves hamburgers with names like 'Gomorrah' and 'Suburra' with a nod to the famous films and television series of the same name.
Other dishes are called 'Libano', 'Freddo' and Dandy', these names refer to main characters of 'Romanzo Criminale'.
How was it again?

Gomorrah is a book by Robert Saviano about the camorra, the mafia in and around Naples. In 2008 the film of the same name was released by director Matteo Garrone. A few years later, the series of the similar title was launched. The fifth season is currently running. Book, film and TV series have all been well received internationally by critics and audiences.

Suburra, about organized crime in Rome, has also been the subject of a film and a TV series (Netflix), also based on a book.

Romanzo Criminale is a 2005 film by Michele Placido based on a best-selling novel. The film also spawned a television series (two seasons). Rome in the 1970s is the location of this drama that deals with the Magliana Gang.

Through this article, watch trailers of the mentioned films and TV series.
Of these three stories, 'Romanzo Criminale' (the series) is the closest to reality, Buzzi says. "Suburra is pure fiction". But it is precisely that (tv)film that is based on reality, according to the chief prosecutor, in which Buzzi starred as the man who corrupted municipal officials.
This content is not shown.

Click on this block to display all our content, by accepting our cookies or review our cooky-policy below.
Differentiated burger prices
Back to gourmet. The prices in Buzzi's restaurant are reasonable. At least for mere mortals. Magistrates pay double. Judges have to pay three times more, says Buzzi.
"This is my fourth or fifth life. We offer hamburgers, fries, aperitifs and also organize birthday parties for children," says the 65-year-old Buzzi, who is currently at large awaiting the verdict of the Supreme Court. He was able to open the restaurant with the help of his mother-in-law.
RELATED STORY: Read more about Italian mafia films.
Actually, Buzzi would have wanted to inaugurate a restaurant, but for now he still has to make do with a simple pub. "We pay 500 euros a month in rent for the pub, a ridiculous price for Rome," Buzzi reports. Starting from scratch is difficult for him. After all, Buzzi was used to handling contracts worth millions and slipping politicians large bribes to secure public contracts.
Mafia Capital City
Buzzi denies that the bribes were high. "The prosecution office has established that we paid 65,000 euros in bribes". If true that's not much if you take into account his yearly turnover of 180 million euros. "'You did a pretty good job', other entrepreneurs sometimes say to me," Buzzi says with a laugh.
This content is not shown.

Click on this block to display all our content, by accepting our cookies or review our cooky-policy below.
In 2014, the exposure of his dealings caused the establishment and Rome's underworld to tremble at the same time. Like an earthquake, the investigators' revelations and the two major waves of arrests shook the Italian capital. The public learned that the criminal cartel known as 'Mafia Capitale' (Mafia Capital City) had a grip on the city administration and easily helped itself from the public coffers.
Buzzi had founded a cooperative that won public contracts in waste disposal, road maintenance and the upkeep of public green spaces, thanks to bribes paid generously to politicians. Among other things, the business of housing and feeding migrants was lucrative.
The network, known as the "capital mafia," had manipulated city tenders for years through connections right up to the top of the Roman administration and business world. According to the public prosecutor's office, it was partly responsible for Rome being close to financial collapse.
This content is not shown.

Click on this block to display all our content, by accepting our cookies or review our cooky-policy below.
Prison time
After several legal battles, Buzzi was set free in 2020 because of the maximum time allowed for prisoners awaiting final sentencing. In 2019, they had been judicially confirmed as chief of the organization, but not as the mind of a "mafia-like association."
Buzzi resolutely denies having built a mafia network in the heart of the capital. "I was not a mafioso and should not have been treated as such. I was in pre-trial detention for five and a half years because I was considered a mafioso and I was not. If people want to understand, they understand, if not, there's nothing I can do. Now I only think about my restaurant. I'm not afraid of the final sentence, I'm living my life now," Buzzi says.
Because he had been classified as a mafioso, he was locked up in a prison specifically for dangerous gangsters from the 'Ndrangheta, among others. "There is more humanity in prison than outside," he says. "If you behave, you will be treated with respect by other prisoners".
This content is not shown.

Click on this block to display all our content, by accepting our cookies or review our cooky-policy below.
Doctorate and writer
Buzzi has made constructive use of his years in a maximum-security prison in Tolmezzo, northern Italy, on the border with Austria. For example, he earned a doctorate in Italian literature and published a book of his truth about the blatant "Mafia Capitale" trial. "Se questa é mafia" (If this is Mafia) is the title of the work in which Buzzi's credo is established: "I smeared politicians, but I am not a mafioso".
In collaboration with Micaela Taroni, Rome